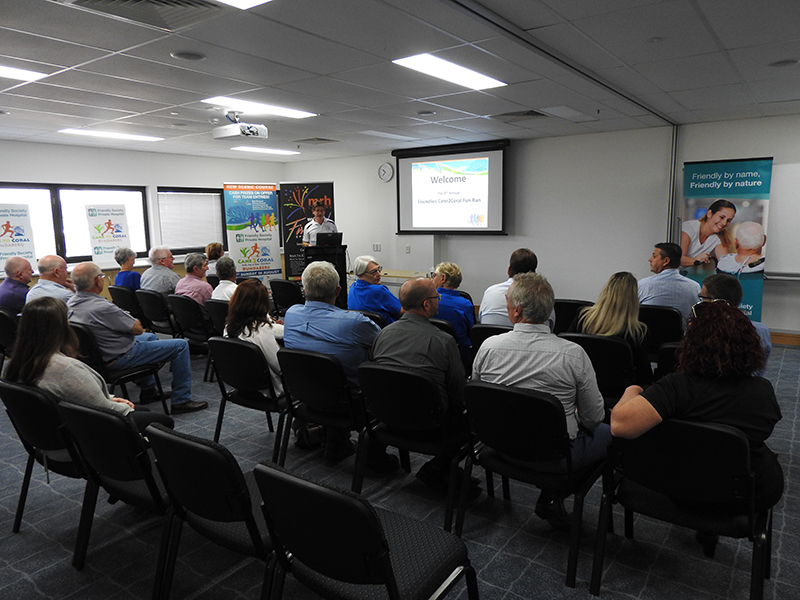 The 8th Annual Friendlies Cane2Coral Fun Run offers participants beautiful coastal views
The Friendlies Cane2Coral was launched today, taking place on Sunday, August 6.
New Scenic Course
"If you haven't already heard, there is new scenic course this year which will offer our 21.1km half marathon, 10km and 4km participants stunning views of our beautiful coastline," Cane2Coral Race Director, Bob Cremer said.
"The 21.1km will start at the Bundaberg Port Marina and initially head toward the Port Road for 5 1/2 km passing our Iconic Cane Fields, we had to keep some cane in there, then return to the Port Marina (this will have covered 11km) the course then crosses the bridge to Burnett Heads heading to the Sea Esplanade which showcases views of the Coral Sea, it then enters the picturesque Mon Repos 'Turtle Trail' finishing at Neilson Park.
"The 10km, a new distance this year, also starts at the Bundaberg Port Marina but immediately crosses the bridge to Burnett Heads goes along the Esplanade then through Mon Repos finishing at Neilson Park, same as the 21.1km.
"Our 4km will start at Neilson Park, this year, travel along the scenic Bargara Esplanade to the Basin and returns to finish at Neilson Park," Mr. Cremer said.
Friendly Society Private Hospital Business Development Manager Stuart Bonnett said it was pleasing to see The Friendlies Cane2Coral evolving as an event, with a change to the course this
year.
"It is exciting to see a new route that will pose a challenge to both new and seasoned Cane2Coral participants, while taking in some of our beautiful coastline at the same time," he said.
Mr. Bonnett said the reason why The Friendlies was the major sponsor of the Cane2Coral was the focus on health, fitness and fun.
"We are very proud to have been involved with The Friendlies Cane2Coral for its entire eight years as we believe it is such a great event to get people thinking about their health, having fun or even challenging themselves."
TEAMS running for FUNds
Jason Pascoe, President of Friendlies Cane2Coral said, "We had great participation of TEAMS last year with over 40 groups entering so we are pleased to announce that we are keeping that competitive spirit alive by once again offering the TEAM categories".
TEAM Prizes can be won under the categories of Community Group, Work/Employer Group, Sports Club, Primary and Secondary Schools plus there will be Mayor's Choice for Best Dressed.
The Waves Sport Club are sponsoring 1st place and runner-up cash prizes for each of these 6 categories, which again will go to the teams nominated charity of choice. Plus, for every team of 10 or more entrants, FC2C will donate 10% of your team's registration fees to your nominated charity or not-for-profit sports club.
General Manager Brendan Royall of The Waves Sports Club said, "We are pleased to support a program that provides that extra incentive to bring the community together for a healthy and fun activity while helping race participants raise funds for their favourite charity. There was a great turnout last year and we expect it will be even better this year."
Gala Fireworks
On Saturday, 22nd of July, the Cane2Coral Gala will again be lighting up the skies over the beautiful Coral Sea with the MRH Lawyers Winter Fireworks Spectacular!
"MRH Lawyers are honoured to once again be involved in the Cane to Coral Fun Run by sponsoring the Gala Dinner and Fireworks Spectacular in 2017.
The 2016 Fireworks Spectacular was enjoyed by over 3000 members of the public and over 150 dinner attendees and 2017 looks to be even bigger and more spectacular. We look forward to seeing an even bigger turn out this year," said Michael Waters, MRH Lawyers Partner.
The Gala offers either a family style Beach BBQ or an elegant Black-Tie Dinner.
The Beach BBQ (open to the public for a gold coin donation) offers Food, Market Stalls and Rides for the Kids from 3-7pm. A great way for family and friends to get together, relax and have a fun time.
The elegant Black-Tie Dinner is located upstairs at Bundaberg Surf Life Saving Club with cocktails, canapes, delicious sit-down dinner and entertainment from 6pm till late with auctions to raise funds for charity.
Information on purchasing tickets to the Black-Tie Dinner can be found on the gala website at www.cane2coralgala.com.au
The Friendlies Cane2Coral events have raised $413,207.00 to date. All money raised by the Cane2Coral goes straight back into our community.