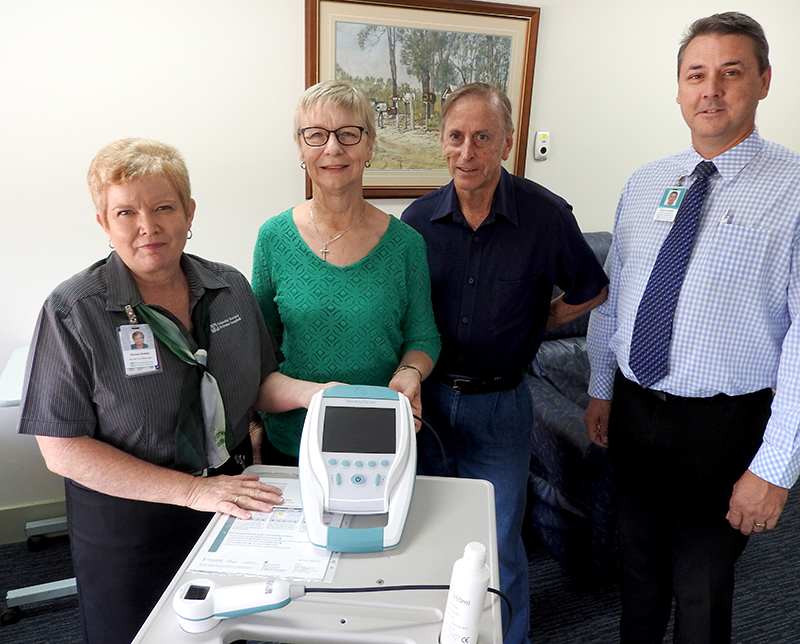 $14,000 donation makes it easier on patients
Convenient for nurses and easier on patients, a new Bladder Scanner was delivered to Unit 3 of the Friendly Society Private Hospital, made possible by a grant from the St John's Grace Fund.
Unit 3 Nurse Unit Manager Donna Stallan said before bladder scanners, the only way nurses could check what was left in a patient's bladder was to put in a catheter – an invasive and uncomfortable procedure.
"These bladder scanners are great for patients, as they are not invasive and are so accurate, as they can give you how many millilitres accurate to 20ml," Mrs Stallan said.
"We use this machine for those patients with continence issues, or for our post-operative patients, most commonly after prostate or gynaecological surgeries."
Mrs Stallan thanked the generosity of the St John's Grace Fund for donating just over $14,000 of the $15,000 scanner, with The Friendlies Foundation making up the remainder.
"It means we can have a scanner dedicated to our unit now, and one that is the most up-to-date in terms of technology," she said.
St John's Grace Fund Chairman Ross Ridge said the fund had been donating funds to the local Bundaberg community since 2001 and had donated a total of about $1.2M in its 16 years.
Photo: Friendly Society Private Hospital Business Development Manager Stuart Bonnett with St John's Grace Fund's Ross Ridge and Lyn Duldig and Nurse Unit Manager Donna Stallan.