Podiatry Service in Bundaberg
Our Podiatrist Claire Barrand treats medical conditions and injuries of the foot, ankle and lower limb.
This can include skin and nail problems, foot and ankle injuries, foot complications and problems with gait or walking.
Claire can help with:
General foot care – corns, callus, in-grown toenails
Sports injuries sustained to the foot and ankle
Children's conditions – knee pain, heel pain, foot pain, footwear advice
Diabetic assessments – including checking blood flow and blood pressures.
Diabetic Foot
Orthotic Therapy – Including assessment and custom orthotics
Footwear Advice
Foot ulcer management
Nail surgery with local anaesthetic
Dry needling
Foot mobilisation
Low level laser therapy
NDIS assessment & Treatment
Claire specialises is providing treatment and advice for the following services:
Chronic Conditions
High-risk foot (related to diabetes)

Numbness or pins-and-needles
Poor circulation – full vascular assessment

Osteoarthritis
Wound management
Biomechanical
Sports podiatry
Orthotics
Children's development

Toes pointing inward or outward
Standing and walking on tip-toe
Growing pains
Clubfoot
Paediatric flat foot and foot posture
Injuries & Pain
Foot pain
Sprains and stress fractures
Persistent heel pain
Tendinopathies
Bunions
Hammertoes
Toenails
Nail surgery for management of ingrown toenails
Ingrown toenails
Thickened toenails
Trauma
Infections
Skin
Blisters
Corns and calluses
Warts
Tinea and other fungal conditions
Cracked heels
Chilblains
Telephone the Friendlies Physiotherapy Service on 4331 1888 to make an appointment.
Meet Claire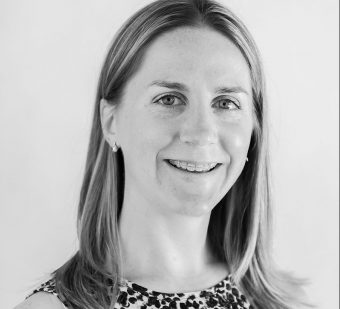 Claire immigrated to Australia in 2008 from England after graduating from Southampton University. She has experience working in both the public and private sector as a Podiatrist.
She currently holds full registration with the Queensland Podiatry Association and the Australian Health Practitioner Regulation Agency (AHPRA).  She is a full member of Sports Medicine Australia (SMA), Australasian Academy of Podiatric Sports Medicine (AAPSM) and Diabetes Queensland.
A general Podiatrist, Claire's main interests are in chronic disease management and the high risk foot and has experience in working with Aboriginal and Torres Strait Islanders in remote and far North Queensland in areas of chronic and acute wound management, Charcot foot, the 'ulcerated high risk' foot, the 'at risk' foot and preventative diabetic foot related complications.
Claire also enjoys and practices in the areas of paediatric podiatry, nail surgery and management of sports injuries.
She is also able to provide footwear advice, prescribe custom made orthotics and offers LASER to assist in managing musculoskeletal injuries and is trained in dry needling.