At Friendly Society Pharmacy, our mission is to make your life more comfortable, which is why we sell a range of mobility scooters, wheelchairs and other mobility aids designed to improve your life.
Need some help? Give us a call on (07) 4331 1699.
Whether you have a disability, limited mobility or trouble walking, Friendly Society Pharmacy mobility aids Bundaberg can help.
No matter what your personal need or circumstance, we have a large range of mobility and walking aids, medical walkers, rollators, scooters and wheelchairs to suit.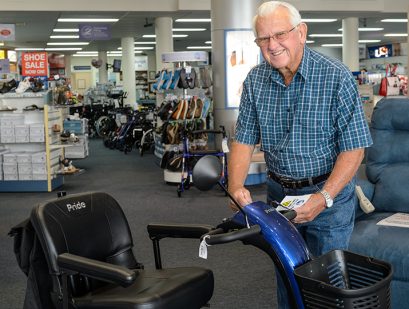 Mobility Scooters
Small portable scooters – smaller scooters are designed to fold or disassemble so they can be put in a car boot. They are great for people who like the convenience of a scooter in shopping centres or parks. There are some more suitable for indoor and outdoor use on smooth surfaces such as pathways.
Lightweight mobility scooters – Friendly Society Pharmacy supplies the Solax Genie Plus lightweight electric mobility scooter which is one of the most innovative folding scooters available. The automatic folding mechanism means it folds up at the touch of a button. Weighing just over 24 kilograms, it's one of the lightest, most versatile and most transportable lightweight mobility scooters on the market.
Outdoor mobility scooters – these scooters are a great option for travelling outdoors as they can be driven for up to 35km per charge. The Pride Pathrider 140XL is both easy to drive and powerful. One of the most popular 4 wheel electric scooters available at Friendly Society Pharmacy, the Pathrider features full suspension, pneumatic tyres and a hydraulic sealed brake system. Standard luxury touches make it comfortable for short or longer distances.
Large mobility scooters – these mobility scooters offer extra comfort and drivability and feature 4-wheel suspension. They are designed to handle rougher terrain.
Like road rules and motor vehicle registrations, the laws around mobility scooters and wheelchairs differ from state to state. Check out our article, Motorised wheelchair and mobility scooter rules in Queensland for details about how the laws work and scooter registration.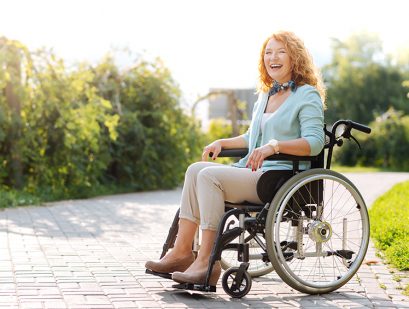 Wheelchairs Bundaberg
Friendly Society Pharmacy has a range of electric wheelchairs for sale to suit every price range and budget. If you're in the market for a wheelchair in Bundaberg, come and visit us in-store where you can view and try out our range, supported by our friendly and knowledgeable staff.
Manual wheelchairs (self-propelled wheelchairs) – self-propelled wheelchairs are common and feature larger rear wheels controlled by the user. The Karma Ergo Lite is just one type stocked at Friendly Society Pharmacy and is a popular lightweight wheelchair weighing in at just 8.8kg. This chair is suited for someone who has control over their upper limbs.
Manual wheelchairs (attendant-propelled) – this wheelchair is propelled by an attendant at the back and has small wheels at the rear.
Reclining and tilting wheelchairs – reclining wheelchairs are similar to other wheelchairs but have added features of being able to recline or tilt the backrest. This can be for comfort and, when combined with the tilt feature, can reduce the risk of skin breakdowns, such as pressure or bed sores.
Powered Wheelchairs – a more specialised wheelchair that is quite often scripted by an Occupational Therapist and specialised seating consultant.
Sports Wheelchairs – a more specialised wheelchair that is quite often scripted by an Occupational Therapist and specialised seating consultant.
Lightweight folding wheelchairs – Friendly Society Pharmacy stocks the Urban Transit Wheelchair, a lightweight folding wheelchair that's smart, compact and comfortable – it's the ultimate portable wheelchair, weighing in at just 10.5kg.
Check out some of our range of electric wheelchairs and prices in the latest catalogue below. Visit us in-store for the full range of powered and manual wheelchairs.
Wheelie Walkers and Rollators
Wheelie walkers, rollators or walking frames (also known as zimmer frames) are standing walking aids that are ideal if you need some support to get around. Essentially a walking frame with wheels, a mobility walker is moved by pushing your arms forward on the handlebars. The four wheels make wheelie walkers and rollators easy to move and very stable.
The majority of 4-wheel walkers have handbrakes for added safety. These differ from model to model but can include loop-locks brakes, bicycle-style brakes or pushdown brakes connected to the handlebars.
Many wheelie walkers have a seat, which makes them ideal for getting out and about in the community, and storage for personal items or shopping depending on the model.
Friendly Society Pharmacy has a range of rollators and walking frames in different sizes, weights and heights. Each has a folding mechanism that makes it easier to transport and store. Some models include a backrest and bonus walking cane holder. We also sell Carbon Fibre walkers.
Walking frames, canes and crutches
Friendly Society Pharmacy also has a range of other walking and mobility aids including folding walking frames, crutches, walking sticks and folding walking sticks and crutches.
Have questions?
For specialist knowledge, information and advice about all types of mobility aids, the Friendlies Pharmacy team is here to help. If you have questions or are unsure of the best option for your needs, visit us at 19-23 Bingera Street, Bundaberg, or call 07 4331 1699.
Did you know that building strength, stability and balance is essential to help prevent falls? Friendlies Physiotherapy and Allied Health has a new Falls Prevention and Exercise Program. Stay in your home longer and build confidence. Classes are just $15. For more information phone 4331 1888 or email phsyio@thefriendlies.org.au.
Contact Us
Please submit your enquiry and we'll be in touch as soon as possible.