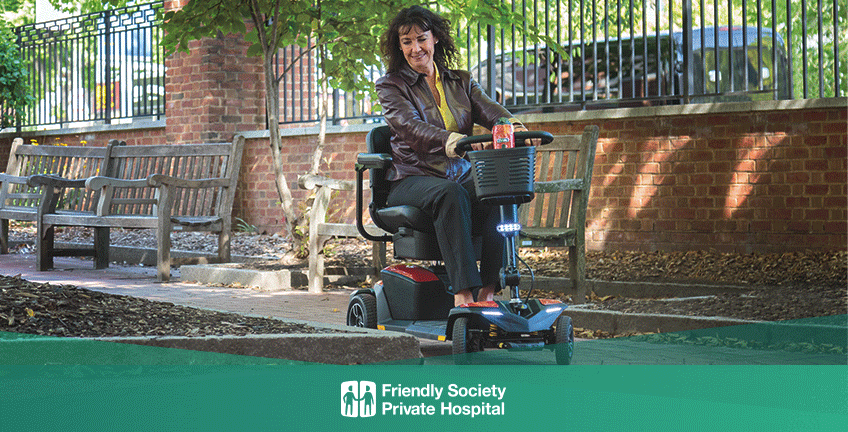 ​​Motorised wheelchair and mobility scooter rules in Queensland
Wheelchairs and mobility scooters are essential for many people with disabilities or reduced mobility. Like road rules and motor vehicle registrations, the laws around mobility scooters and wheelchairs differ from state to state.
If you use any type of mobility device, it's essential to know the road rules and how they apply. If you're planning to buy a mobility scooter or electric wheelchair, having a good understanding of the regulations first can ensure you buy the right product for your needs.
Here at Friendly Society Pharmacy, we sell a range of motorised mobility equipment and can answer all of your questions about choosing a scooter or wheelchair and the applicable laws. Let's take a deep dive into how mobility scooter law in Queensland works.
What are the mobility scooter rules and regulations?
Mobility scooters and motorised wheelchairs are treated the same way by Queensland law. Under the Queensland road rules, a mobility scooter or motorised wheelchair used outside of the home is considered a pedestrian.
Users must follow the same rules as pedestrians and can go anywhere a pedestrian can go, including footpaths, bicycle paths, shared paths, shopping centres and nature strips. Non-motorised wheelchairs are exempt from these rules.
Mobility scooter road rules:
· You must use a footpath where possible to avoid riding on the road.
· The scooter or wheelchair can only be taken on the road if no footpath, pathway, or nature strip is available.
· Use pedestrian crossings and traffic lights if available.
· Obey all traffic signals intended for pedestrians.
· You must not ride on the road in the same way as a car.[1]
Safety always comes first. Users should be able to operate the motorised wheelchair safely and exercise care to prevent injury or harm to others.
Top tip: Many states have different rules for e-scooters and similar motorised recreational devices such as electric unicycles, electric scooters and Segways. In Queensland, these are referred to as "rideables" or "personal mobility devices" and are covered by different rules.
Mobility scooter registration QLD
Users must register a motorised wheelchair or scooter if used anywhere outside of the home, including footpaths or road areas.
Registration is required by law if your scooter/wheelchair:
1. Has an electric motor.
2. Is designed and built for a person with mobility difficulties.
3. Has a tare weight (total weight of the device without the user or any load) of 150kg or less.
4. Cannot travel more than 10km an hour on level ground.
If your device does not meet these four requirements, it can't be registered, so keep this in mind when shopping for a motorised scooter or wheelchair. Vehicles that cannot be registered are not allowed on public roads or footpaths and can only be ridden in private locations such as inside your home.
How to register a motorised scooter or wheelchair
There is a bit of paperwork involved in registration, so it helps if you read the background information in advance. The process is similar to registering a car.
Individual owners need to complete:
· Vehicle Details Inspection Sheet, which provides details about the make, mass and any modifications
· Motorised Wheelchair Statement to say you will abide by the rules.
For more details about registering and the information required, visit the Transport and Main Roads (TMR) website.
You can register a scooter by visiting a transport and motoring customer service centre such as Bundaberg Transport and Main Roads Customer Service Centre at 14 Production Street, West Bundaberg.
In regional areas, registration can be arranged through government services offices such as the Childers QGAP, a magistrates court or the local police station. Additional paperwork may be required, including a Vehicle Registration Application.
Top tip: Motorised wheelchairs can also be registered on behalf of an organisation like a shopping centre or nursing home.
Number plates
Once the registration process is complete, you will receive a certificate, numberplate and information about the Queensland road rules as they apply to motorised scooters and wheelchairs.[2] Note that there is no registration label or sticker provided.
Registration is free and includes compulsory third party insurance and your number plate.[3]
Do you need a driver licence or medical certificate?
You do not need a driver licence to use a mobility scooter or motorised wheelchair in Queensland.
Registration previously required applicants to provide a medical certificate but this is no longer the case. You will need to provide proof of identity, similar to the requirements for car registration.
Who has right of way?
Motor vehicle users must give way to mobility scooters and motorised wheelchair users in the same way they give way to pedestrians, says Senior Constable Jo Arthur.[4]
"You should use your scooter on the footpath, bicycle path, shared paths and nature strips, such as grass verges between the footpath and the road, whenever you can," Senior Constable Arthur said.
If there is no footpath or nature strip available or there's an obstruction in your way, you must travel as close as possible to the left or right side of the road.[5]
Top tip: If you need to travel on the road, travel in the opposite direction of the traffic for better visibility.
New Queensland residents
If you have recently moved to Queensland, it's essential to register your mobility scooter or motorised wheelchair within 14 days.
Visitors can bring their mobility scooters to Queensland without needing to register.
Are you looking for a new motorised wheelchair or mobility scooter?
Friendly Society Pharmacy has a wide range of options. Our experienced staff can talk you through the options answer all your questions. We are here to help you choose a mobility device that is right for your needs.
Check out the latest catalogue for some of our best sellers.

Reference for the article:
[1]

Queensland Government, Wheelchairs and mobility scooters: A guide for safe travel in Queensland, February 2017.