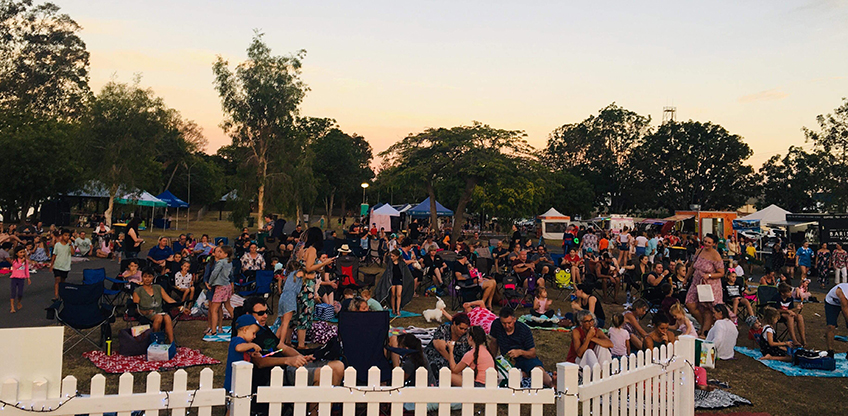 $2000 raised at The Friendlies Foundation Movie Night Under The Stars
Markets, Music, Food and an outdoor screening of Sherlock Gnomes drew more than 600 people to Alexandra Park for The Friendlies Foundation Movie Night Under The Stars.
The gold-coin event raised more than $2000 for the charity, thanks to the generous support from those who attended, vendors, volunteers and sponsors.
The Friendlies Foundation public relations officer Tunja Cottier said she was pleased with the event and the feedback received.
"We really wanted to hold a true community event that was something that could be enjoyed by families and would be easily accessible by everyone," Ms Cottier said.
"It was really wonderful to see so many people join us for the event."
The Movie Night was supported by Mumma's Nest Markets, Frivolous Faces Face Painting and music by Gypsy-Lane from 3.30pm, a visit by Bundaberg's own Marvel Superheroes, as well as many food vendors.
"This event would not have been possible without the help of our sponsors NAB, Ray White Bundaberg City, Bundaberg Regional Council and Bundaberg Broadcasters, or our wonderful volunteers from The Friendlies, Wide Bay Volunteers, C&K Community Kindergarten and Rotary," Ms Cottier said.
The Friendlies Foundation is the charitable fundraising arm of the Friendly Society Private Hospital and works to raise funds to support and expand local life-saving healthcare services.
Thank you to our Major Sponsors
NAB
Ray White Bundaberg City
Bundaberg Regional Council
Bundaberg Broadcasters
Thank you to our supporters
Wide Bay Kids
C&K Community Kindergarten
Wide Bay Volunteers
Rotary Club of Bundaberg Sunrise
Thank you to our food vendors and entertainment
The Bundy Burger Company
The Icecream Lady
Delightful Dutch Pancakes
Binney Tornado Potatoes
Hit 'N' Run Barista
Hungarian Langos Van
Zacs Meats
Mumma's Nest Markets
Frivolous Faces Facepainting
Gypsy-Lane
Marvel Superheroes