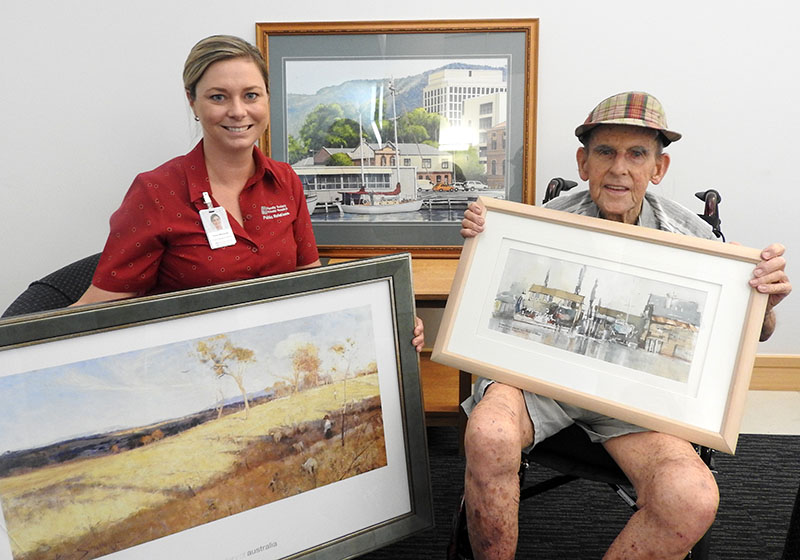 New artworks donated to hospital
While a hospital may not be a place you would expect to see fine art, the Friendly Society Private Hospital has a growing collection of unique artworks, made possible from kind donation from people like Austin Whitaker.
Mr Whitaker donated three artworks to the hospital this week, an original painting by Charles Hazzard, an original watercolour by Brian Harris and a Sir Arthur Streton print.
The artworks will be in good company, in the hospital permanent loan and personal collection of hundreds of artworks on display throughout the hospital.
The Friendly Society Private Hospital is proud to have works on permanent loan from the Hazzard Family Trust, as well as works from local artists and renowned artists such as Ivan Rohan, Bob Gough, Ann Warnes and Allan Jacobsen.
The Friendly Society Private Hospital is also proud to sponsor an award each year at the Bundaberg Arts Festival, of which we receive the winning painting in our named category to display in the hospital.
Mr Whitaker, who is a life member of the Bundaberg Arts Society, said he was only too pleased to make the donation.
"I didn't want them to be sold," Mr Whitaker said.
"I wanted to make sure they were with someone who would appreciate them."
Pictured: The Friendlies Foundation Public Relations Officer Fiona Macaulay gratefully accepts the donation of three artworks from Bundaberg Icon Austen Whitaker.