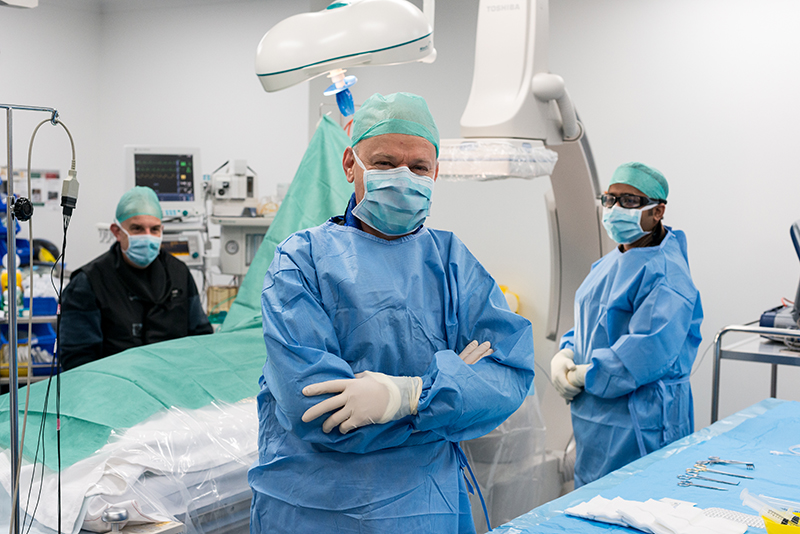 Five years of life-saving service by The Friendlies Cath Lab
Almost 4500 life-saving procedures have been done in the Friendly Society Private Hospital's Cath Lab, which has celebrated its 5th Birthday.
The Cardiac Cath Lab is the only facility of its kind between the Sunshine Coast and Townsville, where cardiologists perform both diagnostic and interventional cardiac procedures such as angiograms and placement of stents.
Friendly Society Private Hospital CEO Alan Cooper said it was amazing to see how far the service had come since opening in 2012.
"The number of procedures completed in this theatre continues to grow every year and we are now completing more than 1000 procedures yearly. It is very humbling to know that by bringing this service to Bundaberg we have saved hundreds of lives. We know not all of these patients would have survived a trip to Brisbane," Mr Cooper said.
Bundaberg Cardiology Cardiologist Dr Andre Conradie said the service had become extremely vital in its five years of operation.
"This is in large part because we have been able to extend the service to offer acute cardiac care and it means we can offer it in a timely fashion. We can see the results of this service because we see we are saving lives," Dr Conradie said.
Dr Conradie said a service like this locally meant Bundaberg patients now didn't have to worry about access to care.
"This service is available all the time – we don't have to worry about bad weather and not being able to fly patients out anymore," he said.
"This service is really growing and we are continuing to grow it into Hervey Bay and Maryborough. We are also continuing to develop with new technology, including involvement in research projects and focusing on ensuring we are delivering the highest quality of care."
Mr Cooper said the primary benefits of the Cath Lab were early access to diagnosis and treatment and minimising the social effects that travelling to Brisbane can have on patients and their families.
"There is no denying that having treatment locally has many positive effects on patients. We are proud to be able to offer this facility to Bundaberg Cardiology and the Wide Bay Hospital Health Service for their public-private partnership, so this service can benefit all those in the community who need life-saving cardiology treatment," he said.
Mr Cooper said the success of the service over the past five years was in large part to the dedicated cardiologists, Dr Andre Conradie and Dr Hermann Wittmer, who worked tirelessly to ensure the service was sustainable.
"It has been our role to support these doctors in the level of service they want to provide their patients and the community, and we have been proud to do this," Mr Cooper said.
"In addition, our staff continue to go above and beyond in both their dedication to our patients and also increasing their level of skills to ensure our service is always operating on the most up-to-date training and information.
"We are now looking to the future and planning for a second hybrid Cath Lab which will accommodate both Cardiac and Vascular procedures. This is something our charity, The Friendlies Foundation, will be supporting over the next few years."
Friendlies Cath Lab History
September 2004: Building the Cath Lab was first set in motion in Sept 2004 with the opening of the Critical Care Unit and Unit 2 Medical Unit (which would later become Cardiac Step Down)
March 2011: Stage 5 Redevelopment is opened, which included areas for the Cath Lab theatre and Cardiac Investigations Unit.
April 2012: Approval granted for Intensive Care Unit with four Intensive Care doctors.
October 2012: Approval given for the Cardiac Cath Lab to provide diagnostic procedures.
November 2012: The first Cath Lab Procedure is completed.
May 2014: Vascular surgeons start work in the Cath Lab
July 2014: Approval given for the Cardiac Cath Lab to provide interventional cardiac procedures, with The Friendlies given Level 5 Coronary Care Unit and Level 4 Intensive Care Unit.