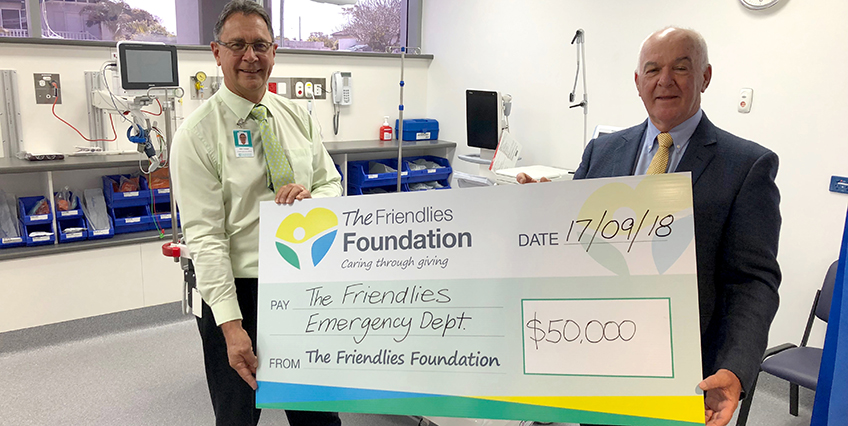 Emergency Department receives $50,000 from The Friendlies Foundation
The Friendlies Foundation has made a $50,000 donation to the new Emergency Department at the Friendly Society Private Hospital.
The significant donation will be used to purchase two pieces of equipment; A PIIC iX Patient central monitoring system, and a Phillips Respironics V60 Ventilator, that will substantially enhance patient outcomes.
The Friendlies Foundation public relations officer Tunja Cottier said the new Emergency Department would benefit many people in the community and the foundation was happy to contribute to opening the service.
"The Friendlies Foundation has been busy fundraising throughout the past 12 months with our major bike ride event and art union, as well as our charity golf day and other events," Ms Cottier said.
"When we were considering how to distribute these funds, raised in our local community, it seemed fitting to give it to the new emergency department, as we knew it was something the community had been asking for."
CEO Alan Cooper thanked The Friendlies Foundation for its donation, assisting the hospital to develop the emergency department.
"The need has been growing for many years to have an alternate option for emergency care in Bundaberg, so we are pleased to be opening The Friendlies Emergency Department next week," Mr Cooper said.
"I'd like to thank all members of the community who have supported The Friendlies Foundation events or fundraising efforts for helping to contribute to this service."
PICTURED: Friendly Society Private Hospital CEO Alan Cooper receives a cheque from The Friendlies Foundation Chairman of the Board Les Hancock.