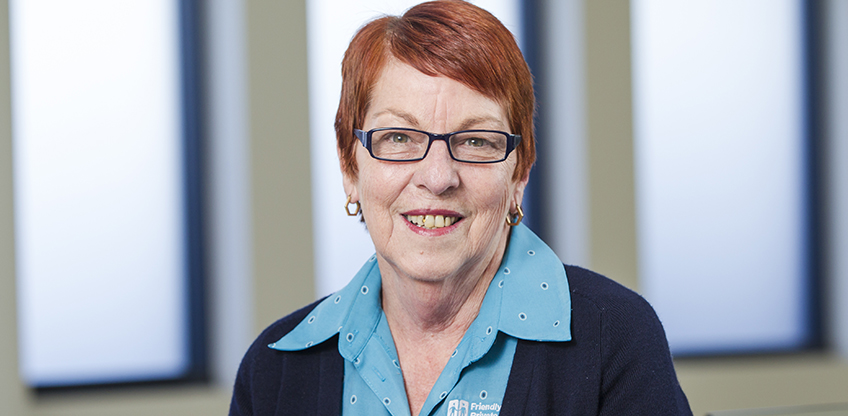 Celebrations for nurse Ann as she retires
With 30-years of service to the Friendly Society Private Hospital, well-loved nurse Ann Gahan was celebrated by The Friendlies and thanked for the contribution she made at her retirement farewell.
"When I first started we only had one ward, and since then I've seen a surgical ward, a medical ward, an orthopaedic ward, the cath lab, and it just goes on, how much it's expanded from when I first started," Ann said.
Ann began nursing at 16-years-old and came to The Friendlies in 1987 when it had just 34 beds. She continued her work and watched the hospital grow into the 142-bed facility it is today.
"It was just a small, tiny hospital with all GPs coming in and no specialists… now we have services that people used to have to travel away for and it's made it so much easier for them."
Ann said she was emotional to leave on her last day of work, but was looking forward to having time in her retirement to spend with family and friends.
"We have three grandchildren here in town so we're hoping to spend a lot more time with them and be able to go to that school concert and be able to do things with them," she said.
Ann will be known to many families and patients in Bundaberg, fulfilling the role of discharge planner in her later career, helping patients transition from hospital to home or care.
"I loved having contact with families to get them services and get them on the road to getting into a nursing home, and when you saw families so happy and it all worked out, that was the most rewarding thing," she said.
Friendly Society Private Hospital Clinical Operation Manager Jackie Emery said she had the privilege of working with Ann for almost three decades and praised her skill as a nurse and her dedication to her job.
"She has always come across as very strict and planned, but people have valued that because she is very thorough… so as a patient or as a doctor, that's the type of colleague you really value," Jackie said.
"We will very much miss her and part of that is the personality, it's not just the clinical ability, it's all the personality that comes with that, and like anyone that you've worked with or contributed over that period of time, it's definitely not going to be replaced easily."
Ann was celebrated with a morning tea and gifts at The Friendlies, as well as recognised at the annual Friendly Society Awards Evening.