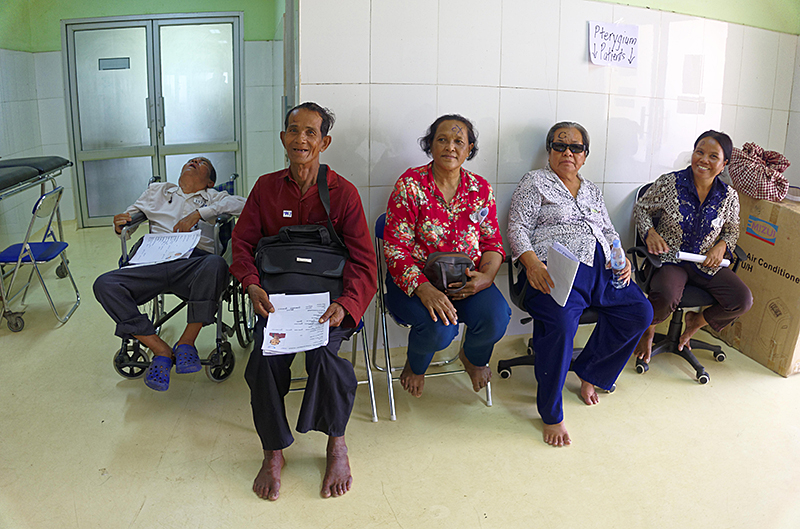 Bundaberg doctor helps restore sight to hundreds of Cambodians
Hundreds of Cambodians have had their eyesight restored thanks to volunteers like Doctor David Merefield.
Dr Merefield, from Coral Coast Anaesthesia, was one of a group of volunteer doctors and nurses who each year travel to Cambodia as a part of the Cambodia Vision team, an NGO responsible for treating thousands of Cambodians, restoring their sight, treating their eyes and returning them to work.
This year was the first time Dr Merefield had worked with Cambodia Vision.
"A couple of theatre nurses at The Friendlies had been involved before," Dr Merefield said.
"They had talked about it and it sounded like a rewarding opportunity, so I expressed an interest to go and a space opened up this year," he said.
"We performed a number of eye operations on cataracts and pterygiums on the poorest of Cambodians. This year we were able to treat 433 patients in just six days."
Dr Merefield was one of three anaesthetists working with seven ophthalmologists and said eye damage and disease was a huge problem in Cambodia.
"Cambodians work out in the sun and they don't wear sunglasses, and in Cambodia if you can't see then you can't work.
"They become non-productive and become a burden on the people in their family who are productive."
Dr Merefield said he was proud to be able to work with an organisation such as Cambodia Vision.
"It is run by Cambodian expats, so it is well appropriated and targeted foreign aid," he said.
"They go once a year at the end of October, which is the end of the wet season. More than 3000 people are assessed each year."
Registered Nurse Eileen Betts has been involved with Cambodia Vision since 2007 and has travelled to Cambodia each year.
"Mr and Mrs Lee escaped the Khmer Rouge and did quite well for themselves, so they wanted to give back to their countrymen and form an NGO (Non-government organisation)," Mrs Betts said.
"I had a friend in Sydney who asked me if I wanted to go – I have been in the eye world all of my nursing life," she said.
Mrs Betts set about collecting items they would need and canvassing businesses to donate items.
"The very first trip, we did 70 eyes and last year we did 433," she said.
When Mrs Betts "retired" to Bundaberg in 2011, she began working part-time as a theatre nurse at The Friendlies and continued her annual trips to Cambodia, inspiring other staff to join the charity.
The Friendlies has also been able to assist with providing the anaesthetic drugs needed to perform the operations each year since 2012.
"I am able to get 98% of the consumables free and everything else we get a discount on," Mrs Betts said.