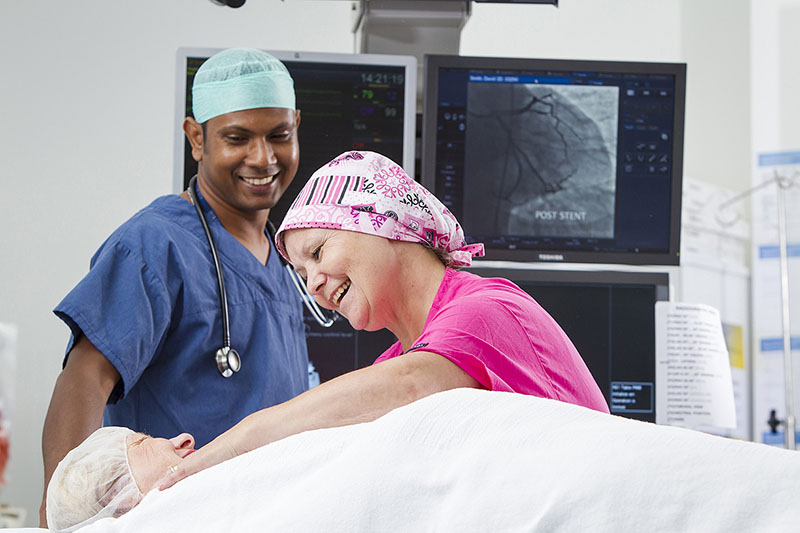 Bundaberg heart attack patients receive the same standard of care as city counterparts
If you were to suffer a heart attack, the consequences of delayed treatment can be catastrophic to your lifestyle and sometimes even fatal.
Ensuring all people have access to immediate treatment has always been a high priority for the Friendly Society Private Hospital and Bundaberg Cardiology, who worked together to bring the first regional cardiac cath lab to Bundaberg.
The Cath Lab first opened in November 2012 and is the only facility of its kind between Sunshine Coast and Townsville.
Hundreds of patients have received access to life-saving treatment due to having the cath lab available so close.
Bundaberg Cardiology interventional cardiologist Dr Andre Conradie said patients who suffer an acute heart attack in Bundaberg are given the same opportunities for care as any patient in Brisbane.
The standard of treatment in Brisbane is the same as here in Bundaberg since we began doing interventional cardiology about 12 months ago," Dr Conradie said.
"If medication doesn't dissolve the clot, the patient is taken straight into a cath lab for immediate mechanical profusion, meaning we use a balloon and stent, if needed, to clear the blockage."
Dr Conradie said the team had treated a number of cases of acute heart attack in the past 12 months.
"There are many positive impacts on being able to do this procedure here. Patients aren't having to wait to get on a plane to take them to Brisbane and then into another hospital," he said.
"The outcome is better long term, as being able to get them into a cath lab straight away means there is less damage done to the heart.
"This means patients recover quicker and in some cases, we have actually saved their life.
Dr Conradie said the social impact of this type of service in Bundaberg shouldn't be underestimated, as family don't have to travel to be with their loved one and the time away from home or work is shortened.
"Not only do we have the technology in Bundaberg to be able to offer these treatments, but we have highly-skilled staff to make it possible as well," Dr Conradie said.
Friendly Society Private Hospital CEO Alan Cooper said the hospital invests heavily in the service it provides to the community.
"It is not overstating it to say that we save lives and we preserve the quality of life for our patients every day," Mr Cooper said.
"We are ensuring this service remains up-to-date and keeps up with demand, so we are well into planning the addition of a second Cath Lab when we embark on an expansion of our theatres within the next three years.
"In doing this, we have been able to attract a permanent vascular surgeon, who will start this month, in addition to our regular visiting vascular surgeons.
"The service we can offer patients in Bundaberg is continuing to grow – from diagnostic cardiology now to interventional cardiology and vascular surgery – and that is something we will continue to focus on for years to come."