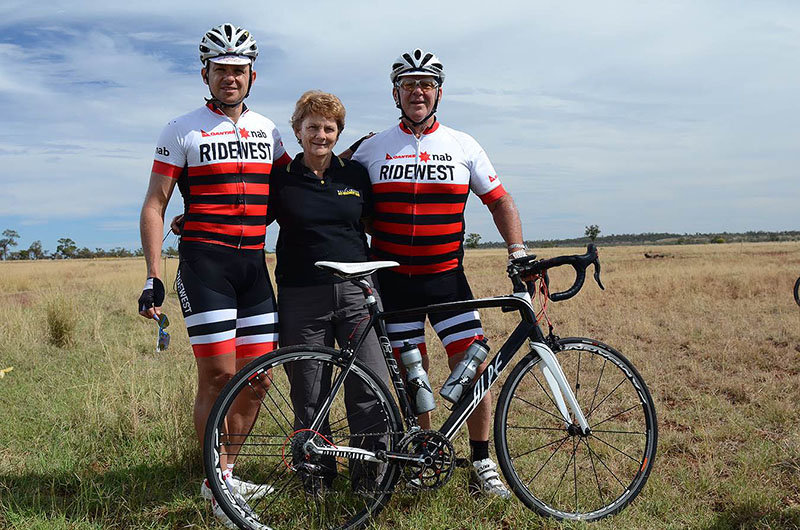 Chairman and family help raise $700,000 for outback mental health support
Finding out the suicide rate for men in the outback is up to three-times higher than their coast counterparts prompted Friendly Society Private Hospital board chairman Les Hancock to establish an event that has raised $700,000 in just five events.
Mr Hancock, along with wife Shelley and son Damian founded RideWest in 2010, a charity cycling event to raise money for the Royal Flying Doctor Service, for its primary health care role in the area of mental health in the outback.
"The event has been a great success," Mr Hancock said.
"We have had five charity cycle rides, four from Brisbane to Longreach and one ride from Longreach to Tenant Creek, and we have raised and donated in excess of $700,000 to the Royal Flying Doctor Service."
Mrs Hancock has been the event manager for all five rides, while Les and Damian rode in all rides – a total of more than 6000km.
"In our most recent ride in May this year, we had 22 riders who raised in excess of $210,000 for the 7-day event," Mr Hancock said.
The Hancock family have stepped away from the RideWest event management, although Les remains at the event chairman.
Mr Hancock is now keen to use his experience to bring a similar charity cycling event closer to home.
"I have been a board member at The Friendlies for 15 years and the chair for the past 12 months and one of the most exciting things we have been able to do is launch The Friendlies Foundation," he said.
"We are going to use our RideWest experience to establish a 3-day, fully supported ride for about 60 cyclists over the May day long weekend in 2017.
"The ride will begin and end in Bundaberg, but take in the beautiful region west of here to areas like Biggenden, Gayndah and Mt Perry."
Mr Hancock said the aim of the charity ride about be to raise $100,000 for The Friendlies Foundation, to go towards expanding the cardiology services offered at The Friendlies.
The event has already attracted three major sponsors in Auswide Bank, Ulton and RBS Morgans.
Photo: Damian, Shelley and Les Hancock at the recent RideWest charity cycling event. The Friendlies chairman will be starting a charity cycling event in Bundaberg in aid of The Friendlies Foundation.