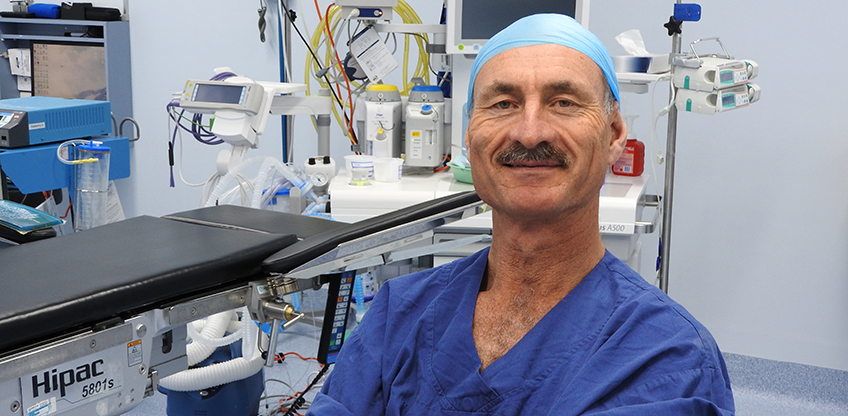 Dr Chris O'Brien dedicated to making a difference in patients' lives
When you ask Dr Chris O'Brien what drew him to a career in Orthopaedic Surgery he doesn't take long to think of an answer.
"The first reason has always been the ability to make a difference to a person's life," Dr O'Brien said.
"I like the notion that I can take something that is broken and fix it.
"The other reason is with orthopaedics, as opposed to some other specialities, there are very good outcomes for patients, with a 90% success rate. That is always a good feeling."
With a career spanning 22 years in South Africa, England and Bundaberg, Dr O'Brien has seen the field of orthopaedics change dramatically in a relatively short time.
"When I did my training, patients were in a plaster cast for two weeks until their wound healed. Now they are out of bed walking the same day," he said.
"The anaesthetics have also advanced – they are a lot safer and more effective. With that comes better post-operative pain management.
"It is now standard to give a local anaesthetic into the wound, so the patient wakes up with little to no pain and it also largely decreases the need for strong painkillers in the days following surgery.
One of the other big advancements has been the ability to reduce blood loss during surgery, which has significantly reduced the need for blood transfusions.
Dr O'Brien specialises in joint replacement of the hips and knees and is able to offer a more personalised service to his patients.
"I will be the one they see before, during and after their operation. I do tend to spend more time with my patients and I will see them every day when they are in hospital," he said.
Dr O'Brien consults from offices on Bingera Street and operates from the Friendly Society Private Hospital.
"I was drawn to The Friendlies by their investment in the Laminar Flow air conditioning system, specifically for orthopaedics in Theatre 3, which aids in the reduction of patient infections. This is huge investment by The Friendlies to set the standard for air quality in theatres," he said.