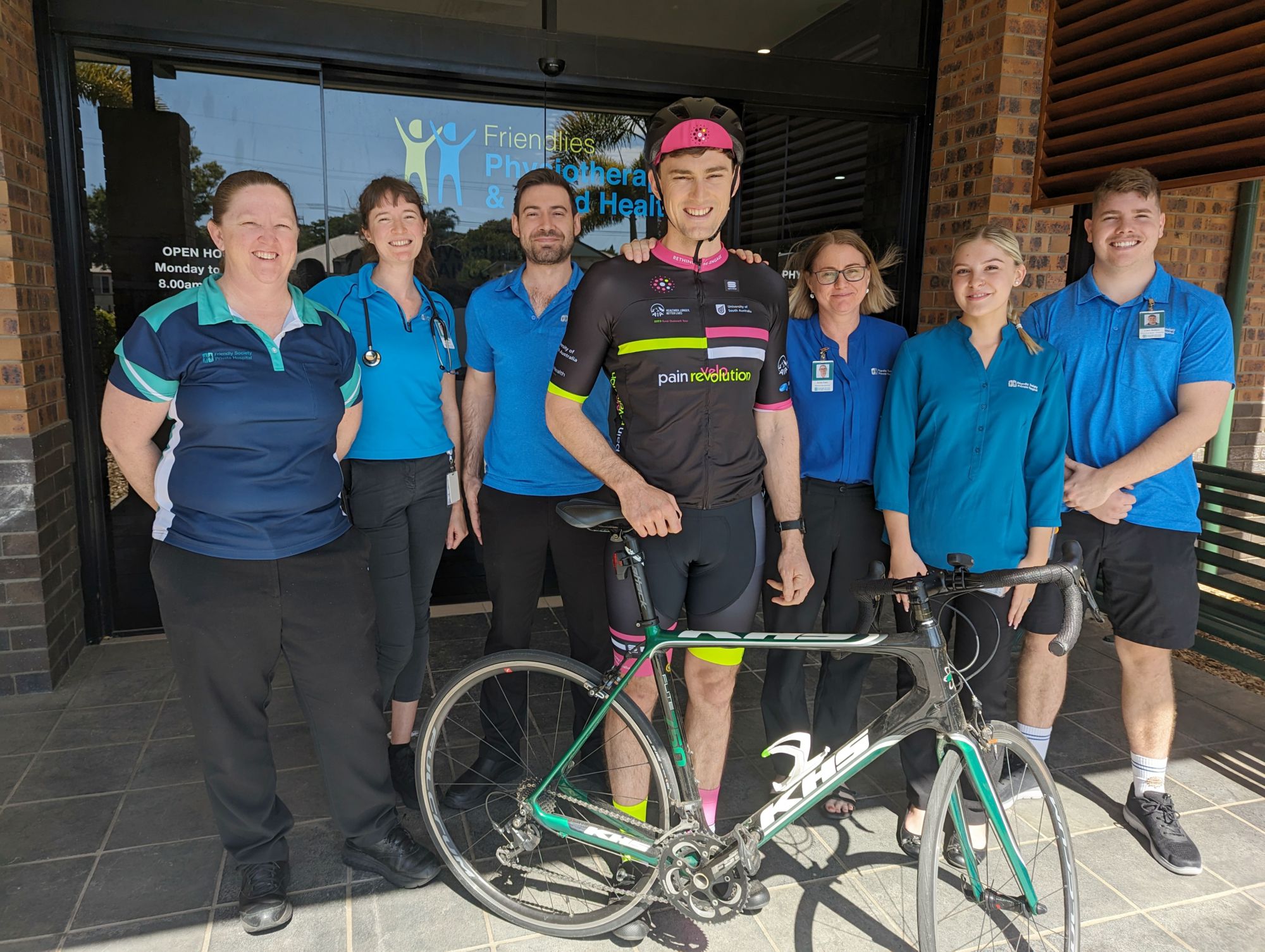 Epic bike ride promotes Pain Revolution
The Friendlies' senior Physiotherapist Mitchell Shorten is embarking on a "pain revolution" to share the latest in pain science, pain education and best practice care for people in pain.
Mitch is joining more than a dozen other health professionals to cycle 750km from Townsville to Port Douglas as part of a Rural Outreach Tour.
The health promotion initiative is aimed at raising awareness about effective pain management and raising funds to support Pain Revolution's innovative and high-impact programs.
Pain Revolution runs a Local Pain Educator (LPE) program which provides health professionals with advanced understanding and skills in pain science, education and care.
"I want to help people in pain and those that treat pain, to understand it better," Mitch said.
"The Pain Revolution is doing incredible work to help people (like me) understand pain and improve outcomes for people with pain and I want to contribute to their ongoing success.
"I've decided to participate in the 2023 Pain Revolution Rural Outreach cycle tour to raise money for Pain Revolution and raise awareness in the community.
"As a physiotherapist I see people who benefit from pain science education and awareness."
The cycle tour will visit North Queensland towns offering talks, events, and education about pain management.
Mitch has been preparing for the epic journey by riding hundreds of kilometres every week. The seven-day trip will average more than 100km per day, including a challenging ascent to the Tablelands.
The Friendlies Hospital has made a donation to Mitch's fundraiser.
"Part of Pain Revolution's mission is to give all Australians access to the knowledge, skills and local support they need to prevent and overcome persisting pain," Mitch said.
"Persisting pain is pain that affects people's lives for a longer time than needed for tissues to heal, and can last from months to years.
"Pain is Australia's most costly health problem and the most common reason for early retirement, with greater problems in rural areas.
"Hopefully the cycling trip will raise awareness for people to understand there is support available if they need it."
The Friendlies' experienced and qualified physiotherapists are available to help people recover from injury, reduce pain and stiffness and increase mobility. They're at 102 Woondooma Street, Bundaberg, phone 07 4331 1888.
To support Mitch's Pain Revolution fundraiser visit https://2023-rural-outreach-tour.raisely.com/mitchell-shorten.