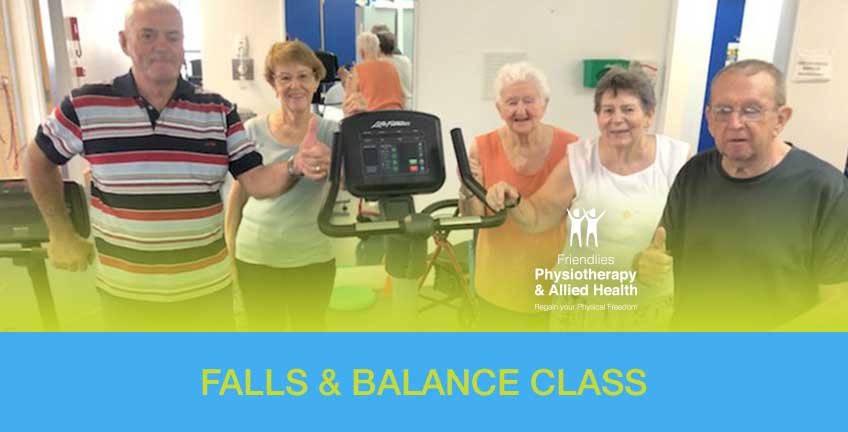 Falls Prevention and Exercise class going strong
Our aim is to create steady seniors with our weekly 'Falls Prevention and Exercise Program'.  The classes are aimed at assisting people to stay steady on their feet have been well received by patients.
The Friendlies Physiotherapy & Allied Health 'Falls Prevention & Exercise Program' is currently running four classes a week.
Head Physiotherapist Matt Churchill said it was great to see so many people get behind the program.
"So many health professionals and patients had spoken to us about a need for classes like these," Matt said.
"As people age, the ongoing effects of having a fall become worse, so it is really important that patients do what they can to stay steady on their feet."
The classes are run by a physiotherapist and Jordan (our exercise physiology student) and focus on fun as well as modifiable exercises, suited to any age and ability.
"We have patients from 60 all the way up to 90, so we make sure that each of them is getting the best out of the program," Matt said.
The exercises centre on strength, balance and coordination, which can help bring patients a sense of safety.
Classes are $15 and it may be claimable on Private Health Extras.
The 'Falls Prevention and Exercise Program' times:
| | | |
| --- | --- | --- |
| Tuesday | 9am – 10am | 10am – 11am |
| Thursday | 9am -10am | 10am – 11am |
Bookings are essential. Give us a call on 4331 1888 or email physio@thefriendlies.org.au.
"All participants need to have a screening with a physiotherapist first, and after that, we recommend 10 classes to perfect the exercises, then you can keep going with the program at home or with us," Matt said.