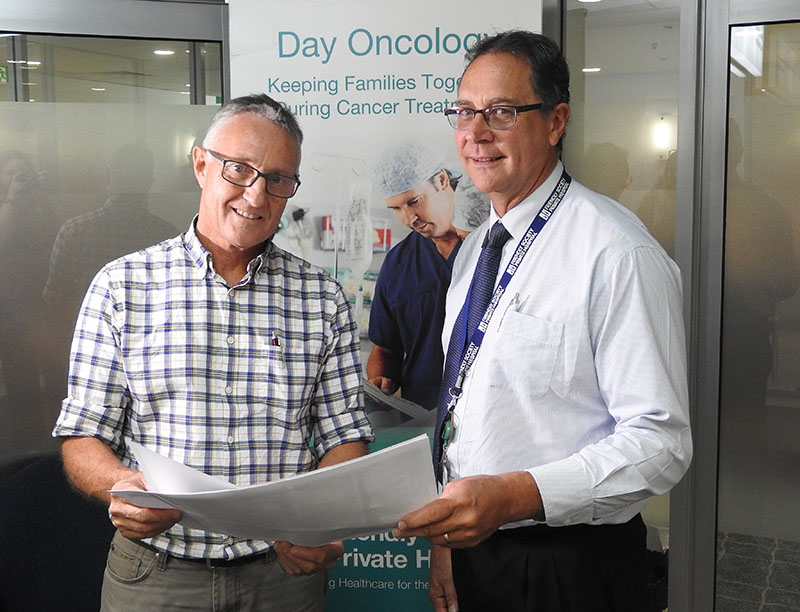 Friendlies to become largest private Day Oncology service between Townsville and Sunshine Coast
A $700,000 expansion at the Friendly Society Private Hospital will ensure that more Bundaberg region residents with a cancer diagnosis will have quality treatment available to them, without the need to travel to Brisbane.
The Friendly Society Private Hospital have this week started the renovation of doctor's rooms to a purpose-built, state-of-the-art Day Oncology unit that will more than double in size from current services.
Friendly Society Private Hospital CEO Alan Cooper said the oncology expansion had been a high priority since the space became available in February.
"We have moved quickly to start work on the oncology expansion, as the service we currently have has outgrown its space much quicker than we could have imagined," Mr Cooper said.
"Cancer diagnosis and treatment is one of the most difficult situations our patients have to face and we are committed to ensuring the space where they receive their treatment is as comfortable as it can be and that we do everything we can to provide them the best quality treatment and services possible."
The Friendlies opened the current Day Oncology Unit in 2011, after a growing need for a dedicated oncology treatment space. The hospital then welcomed its current permanent oncologist Dr Vikram Jain in April 2012.
Since July 2015, The Friendlies Day Oncology Unit has done 3112 patient treatments, or an average of 15 patient treatments per day, five days a week.
The current unit has six oncology treatment chairs. The expansion will see the chair numbers increased by more than 100% to 14 chairs, making the new unit the largest private Day Oncology unit between the Sunshine Coast and Townsville.
"The expanded oncology unit will not only be more comfortable for patients, but also for their visitors and loved ones as well. We will have an expanded waiting room, larger treatment areas and a dedicated space for video conferencing and specialist consultation," Mr Cooper said.
Mr Cooper said The Friendlies continued to be focused on providing excellent care to all people in the Wide Bay and Burnett region.
"Patients at The Friendlies have no out-of-pocket expenses for chemotherapy and related drugs and they have access to cancer council nurses and volunteers.
"They also have access to our allied health team of physiotherapists, occupational therapists and a dietitian, as well as seven-day access to our dedicated oncologist Dr Jain.
"We also have a 'total care' approach to our patients, with a multi-disciplinary team of surgeons, general physician, radiation oncologist, radiographer, urologist, gynaecologist, cardiologist and nurse manager who meet and review all cases weekly."
Image: Builder Jeff Lennox and Friendly Society Private Hospital CEO look over the plans for the Day Oncology Expansion project.