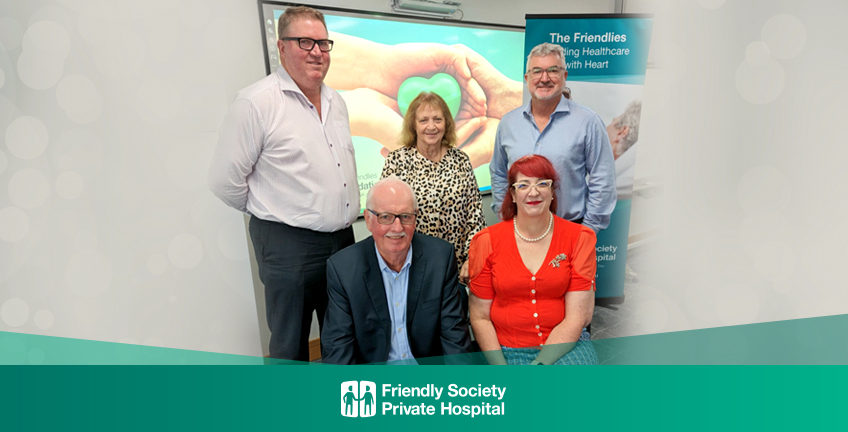 Friendlies Hospital charts bold future vision
The Friendly Society Private Hospital has reported a year of consolidation and growth despite Covid-related challenges and outlines a bold future vision.
The hospital's 2021-22 annual report reveals expansion plans, including a larger pharmacy site and the establishment of a GP clinic.
The organisation recorded total revenue of $85,187,797 in 2021-22, up nearly $4.5m on the previous year. Profit after income tax was $156,621, down from the previous year because of Covid impacts and rising costs.
Board chair Barry Dangerfield said receiving full accreditation after a rigorous audit was one of the year's highlights.
"The Friendlies was challenged to ensure that our service delivery, community engagement and governance meets the national standards and expectations of our broader community," he said.
"We were pleased to receive full accreditation in September 2022."
Mr Dangerfield said the community pharmacy in Barolin Street was sold, enabling activities to be consolidated at the hospital.
"Most of the team moved across with the business, with plans for a reshaped, modernised pharmacy to be constructed in 2023," he said.
"Although the construction of the new building is on hold, we went ahead with civil works in Crofton Street, laying the foundations for an exciting project in 2023-24."
Mr Dangerfield said a new Strategic Direction would be released early next year.
"Building on a history of providing excellent health care to the people of the Bundaberg region, The Friendlies is concentrating on bold, innovative growth over the coming years," he said.
"Based on strong governance and ensuring safe, high-quality patient care, we know that The Friendlies will continue to serve the changing needs of our region."
2021-22 highlights included:
· A total of 46,443 occupied bed days, up 7.2% from 2020-21
· 16,545 patients admitted
· Total theatre procedures performed 17,089
· Total Emergency Department consultations 9127, an increase of 3.5% from 2020-21.
· The endoscopic fleet was upgraded at a cost of$475,000
· The Cardiac Catherisation Laboratory clinical diagnostic equipment was upgraded, costing $200,000
· New Critical Care Unit ventilators were purchased at a cost of $110,000
· The Veterans Affairs (DVA) team assisted 648ex-service personnel, filling 1817 orders for equipment or services.
· NDIS participants were supported with 354 filled orders for assistive technology and consumables along with 67 home modification projects.
· Through consultation with the staff, a new uniform was decided and will be rolled out in 2023.
Chief executive Simone Finch said the Medical Advisory Committee recommended accreditation during the year for 18 specialists, 11 general medical practitioners, 22 locums and 11 other health practitioners.
"The Friendlies employs approximately 600 people. We're one of the largest employers in the Bundaberg Region," she said.
"We contribute not only to the regional economy, but significantly to the community's health and wellbeing."
Ms Finch said everyone at The Friendlies was focused on delivering high-quality services to the community.
"We know that, whether someone is a frontline nurse, a Visiting Medical Officer, a cleaner, orderly or administration team member, we are all here to ensure that individuals, their families and friends are supported during their time at The Friendlies," she said.
"We are very excited about our new strategic direction that will be released in early 2023.
"Entitled 'Being Bold', it brings an invigorated, redefined period of growth for The Friendlies.
"Based on research, we're confident it will positively increase health services across Bundaberg and the wider region."