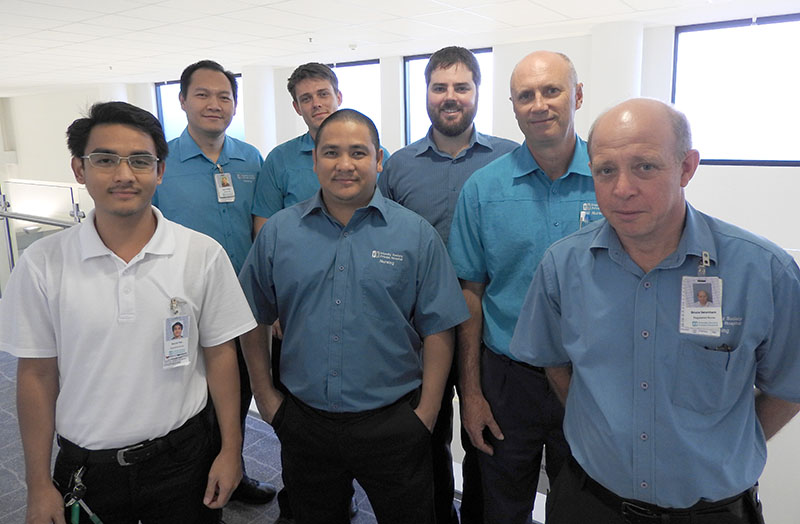 Men at work in nursing profession
As a male nurse, being mistaken for a doctor or a physio has often been just part of the job for Friendly Society Private Hospital nurse unit manager Gerard Sorbello.
Mr Sorbello said when he first began his career in nursing 14 years ago, male nurses were definitely a minority, but something he is happy to see changing over recent years.
"People's attitudes to what a nurse is are changing, as those comments don't happen as much as they used to as the number of men entering the nursing profession continues to grow," Mr Sorbello said.
While still outnumbered by female nurses, Mr Sorbello certainly isn't the only one making a name for male nurses at The Friendlies, with about 15 men working across the seven clinical units of the hospital.
"When you have both men and women in a nursing team, it offers a diversity of care, thinking and approach, that otherwise wouldn't have been available to the patient," Mr Sorbello said.
Registered Nurse Owen Ariola agreed that having both men and women in a nursing role offered a more well-rounded approach to a patient's care.
"You do find that men are often more at ease with a male nurse," Mr Ariola said.
Both nurses were reflecting on their jobs as a part of International Nurses Day today (Thursday, May 12), celebrated across the world on the anniversary of the birth of iconic nurse Florence Nightingale.
Mr Ariola said choosing a career in a typically "female" industry was something that had never worried him.
"I suppose I am more driven by the job and the science behind it to worry about that," Mr Ariola said.
"I just love having the contact with patients, especially in the surgical and orthopaedic fields, as you see patients making such big improvements."
When Mr Sorbello entered the nursing profession, he did think about the fact it was considered a stereotypically female role, but said nursing was a rewarding career path with multiple opportunities.
"The hospital has provided me with many career opportunities as well as the ability to provide people with care, often at some of the most vulnerable times of their lives," Mr Sorbello said.
"It is a challenging job, but also a very rewarding one."
The Friendlies will celebrate International Nurses Day with a barbecue breakfast for staff, activities and an afternoon tea.
Assistant Director of Nursing Compliance Yvonne McChesney said International Nurses Day was something the hospital loved to celebrate each year.
"We have such a hard-working and dedicated team of nurses at our hospital, they deserve to have a day where our other staff can congratulate them and thank them for what they do," Mrs McChesney said.
"Our nurses are at the front of patient care and they are often the ones that have the biggest impact on the experience our patients have during their stay in hospital.
"It is a nice day to offer our nurses the recognition for the fantastic job they do."