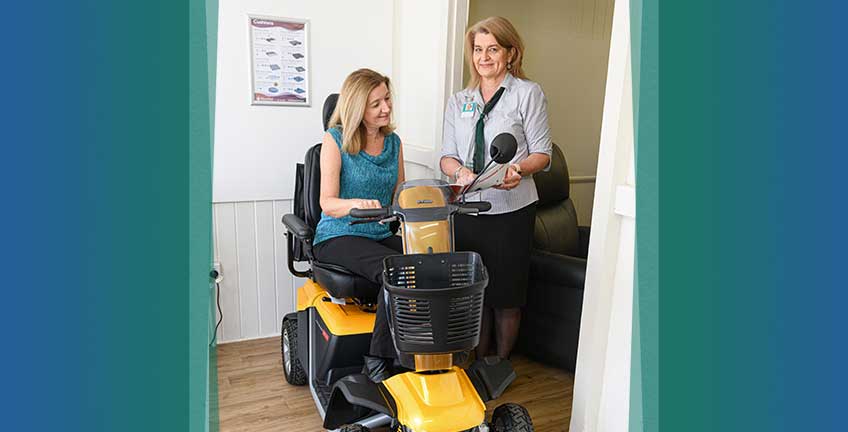 NDIS Low Cost Assistive Technology: Everything you need to know
NDIS Low Cost Assistive Technology: Everything you need to know.
Assistive technology covers a wide range of products and services that can help people with a disability live more independently and complete everyday activities.
The NDIS describes assistive technology as physical supports that can help you do something more easily or safely or do something you otherwise can't because of a disability. The item may be customised for you or make it easier for someone else to assist you.
Assistive technology (or AT for short) includes everything from non-slip bathmats and bathroom transfer seats to mobile apps and more expensive supports like wheelchairs, rollators and home modifications.
The NDIS categorises assistive technology based on value, with low cost assistive technology the most common and the least expensive.
The NDIS and assistive technology
The NDIS funds reasonable and necessary assistive technology based on individual needs. AT items purchased with your NDIS funds must be related to your disability, connected to your disability support needs and good value for money.
There are three categories of NDIS assistive technology:
Low cost assistive technology: under $1500 per item.
Mid cost assistive technology: between $1500 and $5000 per item.
High cost assistive technology: over $5000 per item (requires a quote)
The NDIS considers the item value and whether it's "low risk" or "high risk".
Low risk AT: there is a low risk of harm when used in a daily living environment; the item is available in stores and does not require professional advice or setup support for safe use. Examples include a non-slip bathmat, eating utensils or a shower stool.
High risk AT: where specialised advice is needed to select the most appropriate product, set it up correctly and use it safely. Examples include prosthetics, bed transfer aids (including bed poles), and mobility supports.
For more details on low risk versus high risk items, refer to the NDIS assistive technology product risk table.
What is NDIS low cost assistive technology?
Under the NDIS, low cost assistive technology includes items and devices that improve functioning, independence and wellbeing valued at less than $1500 each. It may also cover adapting an everyday item for your use.
Funding can be seen in your Core – Consumables budget under low cost assistive technology.
Most low cost assistive technology is low risk. However, some items fall under the high risk category, which means you should seek advice from an OT practitioner before purchase.
Examples of low cost assistive technology
Check out the NDIS Assistive Technology Guide for low cost support funding for examples of low cost AT and the approximate prices you can expect to pay.
The guide helps you make the best use of your NDIS funds and get the best value support. Some common low cost AT items are listed below.
Around $50:
Laundry and washing line adaptations.
Assistive items for dishwashing.
Bed or chair raisers.
Swivel cushions.
Removable car door handle.
Everyday items that address functional impairments such as a non-slip bathmat, long-handled equipment and adaptive cutlery.
Small devices to assist with dressing, eating and drinking.
Walking stick or cane.
Vision specific app for a smartphone.
Around $100:
Incontinence alarm (not for infants and toddlers).
Low risk daily living equipment such as talking kitchen scales.
Around $150:
Kitchen trolley.
Assistive utensils for household tasks.
Transfer belt.
Bath transfer bench or bath board.
Shower stool.
Tactile sticks or white canes.
Adjustable toilet set raiser.
Basic over toilet frame.
Around $250:
Kitchen stool over bed table.
Hand shower.
Shower chair with adjustable arms or back (not for infants and toddlers).
Around $300:
Standard adjustable height chair.
Hoist sling replacement.
Replacement magnifier for vision impairment.
Around $500:
Rollator.
Four-wheeled walker frame.
Orthopaedic footwear.
Replacement knee sleeves (for a year).
Low cost AT the NDIS will not fund
Internet access or data.
Items that most people have in the home such as a standard kettle or furniture.
Items for treatment or rehabilitation.
Children's play equipment not connected to sensory needs.
Assessment or therapy tools used by therapists.
While the NDIS may fund smartphone apps related to a disability, it will not generally cover the cost of a smartphone. Most people have to fund smartphones themselves, so they're considered a daily living expense which the NDIS doesn't fund.
Low cost assistive technology the NDIS considers a higher risk
For the following items of low cost AT, the NDIS suggests obtaining advice about how to use them before purchase. An assessment or quote is not required.
Bed sticks and other transfer aids.
Some communication supports.
Pressure care devices.
Some hearing supports.
Mobility and bathing/toileting support.
Note that the NDIS must directly approve weighted blankets before purchase.
7 tips for purchasing Low Cost Assistive Technology
If you already have low cost AT funding in your NDIS plan, you can use it to make purchases without obtaining a quote, providing the items are considered low risk.
Our team of NDIS specialists provides some helpful tips for getting started.
Check your Core – Consumables Budget to see how much low cost AT funding is available before making a purchase.
Core budget funding can be flexibly used to purchase low cost AT (except for stated supports and transport funding).
If you have AT in your NDIS plan, you will have at least an additional $500 in your Capacity Building budget to get help using your AT funds. Use these funds to get advice or learn how to use your low cost AT correctly.
Ensure that the purchase is aligned with one of your NDIS-related goals.
Your NDIS funds can only be used to purchase the minimum support that will suit your needs. For example, you cannot buy the top of the range model if the base model is adequate for your needs. You can fund the difference with your own money.
Seek the correct and informative advice on each piece of Assistive Technology that you are interested in purchasing to ensure it will meet your needs and make activities easier and safer for you.
Trial the item as best as you can. View the item, pick it up, touch and feel it to determine if it will be of assistance.
Are you heading to a new NDIS plan meeting or plan review meeting? Spend time making a list of low cost AT items you may like to buy in advance, so the NDIS knows how much funding to include.
Paying for low cost AT with your NDIS funds
The process for payment depends on how you have chosen to manage this section of your NDIS plan.
Self-managed
You can purchase the item from any provider (registered or unregistered) and claim the purchase through the myplace portal.
Plan managed
Purchase from registered or unregistered providers. Your plan manager will pay the provider from your NDIS funds.
Agency managed
You can only purchase from NDIS registered providers. A service booking must be created for each purchase.
Visit Friendly Society Pharmacy for your low cost AT needs
Here at Friendly Society Pharmacy, we stock an extensive range of assistive technology, including low cost items such as commode chairs, over bed tables, shower chairs and stools, rubber shower mats, handheld showers, long-handled aids, swivel cushions and chair raisers.
Our trained staff can help you select the right items for your needs. We are an NDIS registered provider, so we can help you regardless of how your NDIS plan is managed.
Visit us in-store at The Friendlies Hospital (19-23 Bingera Street), give us a call on 07 4331 1699 or find out more about our NDIS services.