Thanks to a donation by The Friendlies Foundation, The Friendlies Day Oncology Unit can offer the use of the Paxman Scalp Cooling Machine.
This complementary therapy may limit hair loss in patients receiving chemotherapy, by reducing the temperature of the scalp immediately before, during and after chemotherapy treatment. This reduces the blood flow to hair follicles which can prevent or minimise hair loss.
What is it?
Scalp Cooling is a simple treatment that can prevent hair loss caused by certain chemotherapy drugs. The use of scalp cooling or "cold caps" is proved to be an effective way of combat hair loss and can result in a high-level of retention.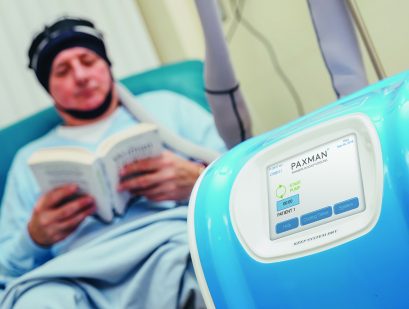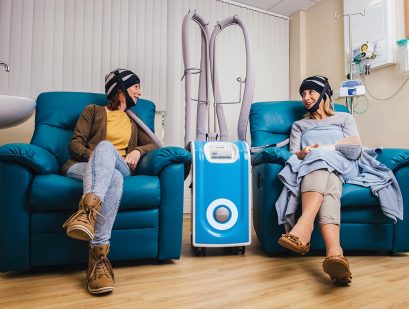 Why does chemotherapy make the hair fall out?
Chemotherapy works by targeting all rapidly diving cells in the body. Hair is the second fastest dividing cell in the body and this is the reason why many chemotherapy drugs cause hair loss.
The hair follicles in the growth phase are attacked, resulting in hair loss about two weeks after the start of chemotherapy.
How does it work?
The damage that chemotherapy causes to the hair follicle can be alleviated by scalp cooling. It works by reducing the temperate of the scalp by a few degrees immediately before, during and after the administration of chemotherapy. This in turn reduces the blood flow to the hair follicles which may prevent or minimise hair loss.
Help us purchase a second scalp cooling machine
Demand for the scalp cooling therapy is high and fundraising has already begun to purchase a second unit, thanks to the support of patients Helen Rimmington, Helena Adams and Susan Hackett. These three ladies are leading the fundraising charge for The Friendlies Foundation to purchase another machine.
Please consider supporting these ladies in their Multidraw raffle with more than $3000 in prizes to be won. You can read the details here. Tickets are available at  The Friendlies Foundation office, Signature Hair, Burnett Carpet Court and OMF.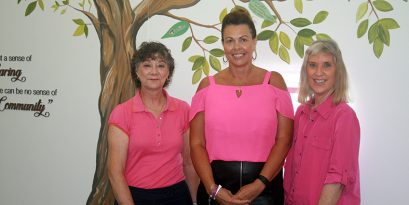 Find out more
To find our more about the Paxman Scalp Cooling Machine please speak to a team member on 4331 1661.