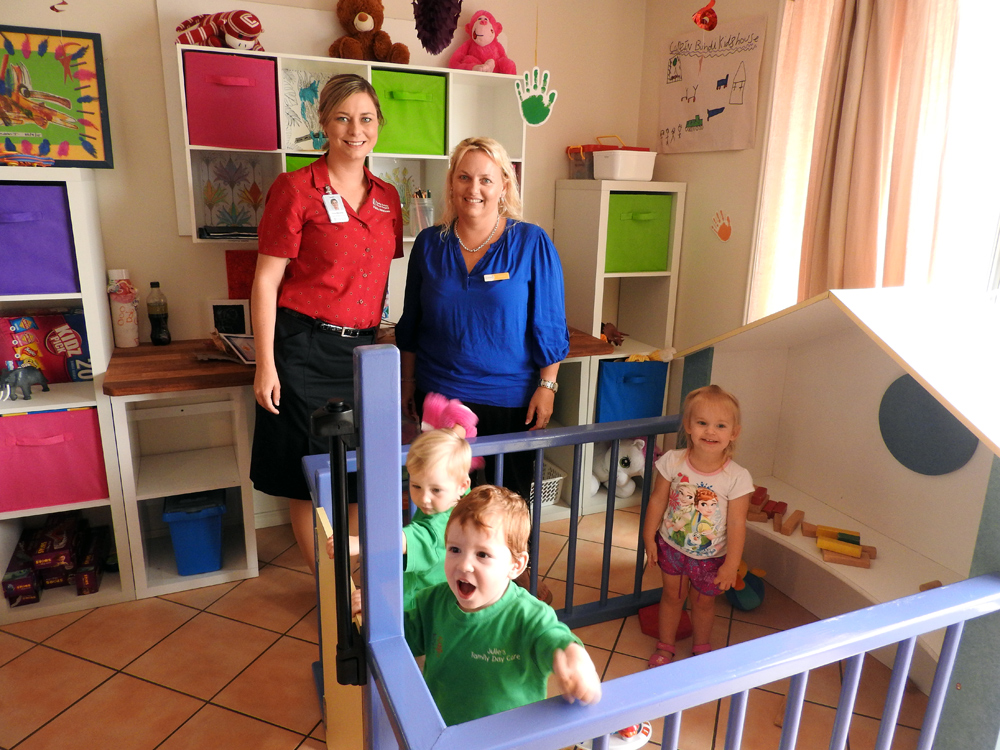 Play house donation to bring more fun to children in respite care
ABOVE: Friendly Society Private Hospital's Fiona Macaulay and Carinbundi Kid's Raelene Dann watch Nate (front), Logan and Sylie as they enjoy the new play centre, donated to Carinbundi Kids by the Friendly Society Pharmacy.
Children using the services of Carinbundi will now have an extra playhouse after a donation from the Friendly Society Pharmacy on Barolin Street.
The little house and gated play area will be used at the Carinbundi respite house.
Carinbundi Kids Manager Raelene Dann said Carinbundi had been offering planned and crisis services to people with a disability, their families and carers since 1994, and also offered a range of respite care for people under 18 years old who have a disability.
"The playpen will be put to great use in the children's respite house here at Carinbundi Kids, allowing the children with disabilities to play," Ms Dann said.
Ms Dann said as a community-based not-for-profit organization, every little bit helped their service.
"Carinbundi Kids provides respite for children with a disability allowing their families to have a well-earned break from their caring duties," Ms Dann said.
"Carinbundi also has a Family Day Care service, which has 170 children currently enrolled."
Ms Dann said educators came to the respite house for playgroup and the children would have access to the playpen.
Friendly Society Pharmacy head pharmacist Andrew Monk said as a not-for-profit chemist when he saw the wooden play area was not being used very often, he thought it would be better used by one of Bundaberg's community groups and Carinbundi was the first that came to mind.
"We wanted to see such a nice play area being used by children, so we decided to donate it to Carinbundi," Mr Monk said.
"They do a wonderful job of supporting children and people with a disability and their carers with the respite they can offer.
"We are happy that this play centre will go to a good home."