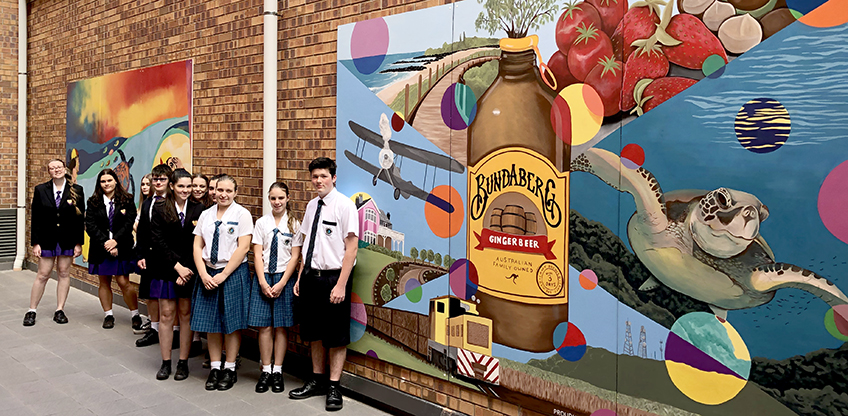 Student Murals Brighten Up Patient Stay
High School students have brought smiles to the faces of patients at the Friendly Society Private Hospital by painting bright murals with local motifs – taking some plain brick walls outside patients' windows from drab to fab.
While almost all rooms at The Friendlies feature large windows, a collection of rooms on Level 1 look over a courtyard – and face large brick walls.
Senior Manager of Business Development Stuart Bonnett said in response to patients' requests for something to look at, The Friendlies put a call out to local high schools to design and paint a mural that was reflective of the Bundaberg region.
Bundaberg Christian College and Bundaberg North State High School both answered the call, each providing a 2.4m x 3.6m mural.
"Each successful school received $1000 to put towards the painting of the mural, as well as the opportunity for students to experience project management of an artistic piece from concept to design and completion," Mr Bonnett said.
"We like to partner with local schools to provide opportunities for the youth of Bundaberg to enhance their skills and be part of something that gives back to the community.
Mr Bonnett said the murals had delighted patients but had also had a positive impact on staff.
"The patient feedback was immediate, and we have been getting rave reviews of the students' work – even staff are enjoying the murals.
"The students have really done a fantastic job and have brought some colour and life to a part of the Level 1 Courtyard walls that will last for years to come."