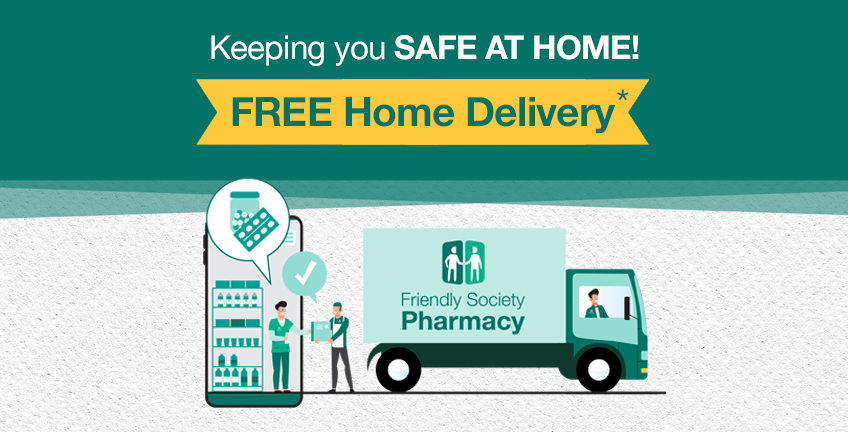 The Friendlies is now offering FREE Home Delivery
The Friendly Society Pharmacy is continuing to provide our essential services to the community during the COVID-19 (Coronavirus) pandemic. The current government instructions that are in place are to help stop the spread of the virus, this means for most of us we are to remain at home unless you are shopping for essentials, receiving medical care, exercising or attending work/education. These temporary measures will protect the most vulnerable members of our community.
Friendly Society Pharmacy is here to help by offering FREE Home Delivery!
This offer applies to customers who meet at least one of the following criteria:
Advised by a medical practitioner to self-isolate, for confirmedCOVID-19 cases
Meeting the current national triage protocol criteria for suspected COVID-19 infection after consultation with either the national COVID-19 hotline, state COVID-19 hotlines, a registered medical or nursing practitioner or COVID-19 trained health clinic triage staff
Are aged 70 years or older
Identify as Aboriginal or Torres Strait Islander and are aged over 50
People with chronic health conditions or who are immunocompromised
Parents with new babies or people who are pregnant
TERMS AND CONDITIONS FOR FREE DELIVERY
You must be a holder of a current Medicare Card
One Free delivery per month, and must include one PBS/RPBS prescription item
Larger Medical Equipment not included in free delivery
The Pharmacy is happy to offer COD (Cash on delivery) or a no contact delivery method.
Other items that can be delivered together with your medication include skincare products, cosmetics, gifts and home health equipment.
Please also note, for any prescription orders to be filled, you must leave your prescriptions on file with the pharmacy or post them prior to your order being filled.
HOW DO I PLACE MY ORDER?
Please call us on 4331 1699 and one of our friendly staff will be more than happy to assist with organising your free delivery. If you need delivery outside of these guidelines we are happy to talk to you about options.
We wish you and your families continued good health. On behalf of everyone at the Friendly Society Pharmacy, we thank you for the amazing role you are doing by following Government rules and recommendations to keep us all safe, well and assisting with flattening the curve.
The Friendly Society Pharmacy Team