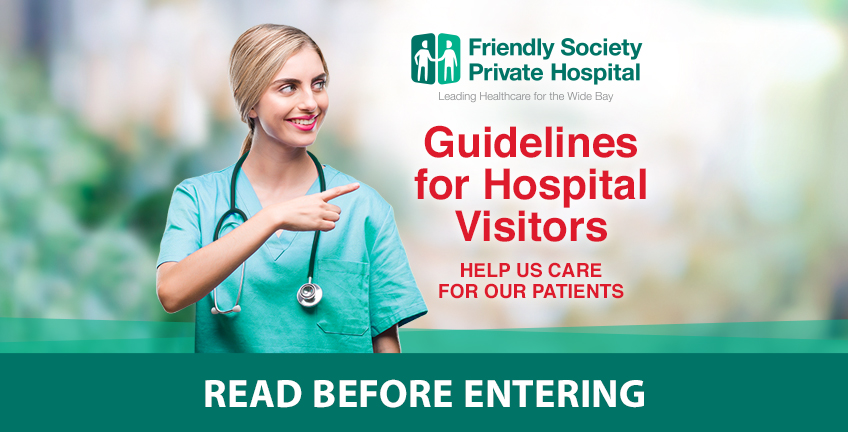 Updated guidelines for hospital visitors
COVID-19
For up to date information regarding Hospital visitation from the QLD government, click here.
Please adhere to the current restrictions, as noted on the Queensland Government website, click here.
Visitor Restrictions:
(Updated 19 January 2022)
Are you visiting The Friendlies Hospital?
Please help us care for our patients by reading the Visitor Guidelines below before entering.
Entry into the Hospital:
The main public entrance into the hospital is through the Bingera Street entrance.
This is for Pathology, Radiology, Genesis Care, Day Surgery, Patient visitor, Atrium Cafe and the Friendlies Pharmacy.
Woondooma Street entrance:
For Emergency Department, Oncology, Endoscopy and Dr Gaffield only.
Guidelines for Hospital Visitors, you can visit if:

 You are vaccinated (unless approved for End of Life, a carer/guardian/parent or you have received an exemption from Hospital Management – contact us on 1800 333 730 if needed)

 Wear a mask

 Maintain social distancing

 Use the self-check-in kiosk

 You are supporting a child and you are the child's parent, guardian or carer

 You are visiting a person with a disability and you are the person's carer or a support person

 You are supporting someone who needs to go to the emergency department or an outpatient care appointment
When visiting a patient in one of the Units:

 Maximum 1 person per visit

 For up to one hour

 To comply with QLD Health guidelines and to ensure the safety of our patients and visitors, entry for children will be limited.
You can visit at all times if:

 You are providing end-of-life support for a patient
Please do not visit in these cases:

 No visitors to patients that are in infection control precautions – please contact the unit prior to visiting. (contact us on 1800 333 730 and ask for the patients' unit reception)

 You have been asked to self-quarantine

 You are a close contact with a person who has coronavirus (COVID-19)

 You have a temperature or respiratory infection symptoms
Please note:
• Each Unit within the hospital can make decisions around visiting that is in the best interest of the patient. These decisions are based on clinical risk and may change depending on the situation at the time.
• You can protect yourself and others by following this advice, practising social distancing and using good hand hygiene.
Please help us care for our patients, we thank you for your support.