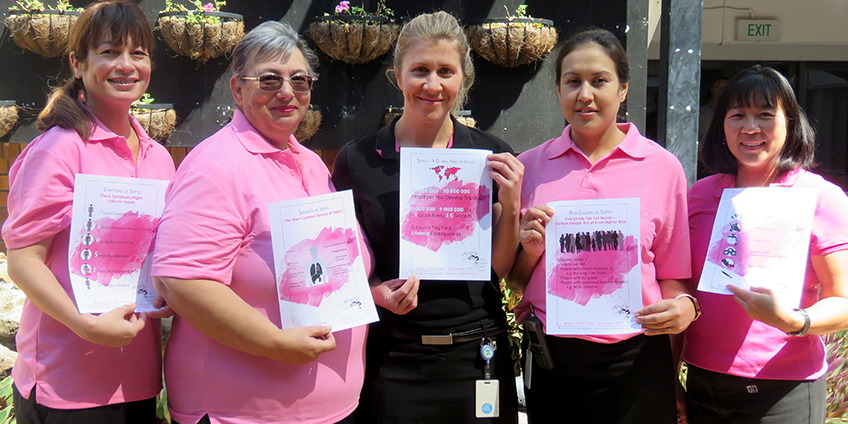 Raising Awareness of Sepsis
Each year, World Sepsis Day is held on September 13, to raise awareness of the serious condition.
Information provided by worldsepsisday.org
WHAT IS SEPSIS?
Sepsis arises when the body's response to an infection injures its own tissues and organs. It may lead to shock, multi-organ failure, and death – especially if not recognized early and treated promptly.
SEPSIS – A GLOBAL HEALTH CRISIS
Sepsis affects 27 to 30 million people every year, with 7 to 9 million people dying – one death every 3.5 seconds.
Many surviving patients suffer from the consequences of sepsis for the rest of their lives.
SEPSIS – COMMON CAUSES
Most types of microorganisms can cause sepsis, including bacteria, fungi, viruses, and parasites. However, it may also be caused by infections with seasonal influenza viruses, dengue viruses, and highly transmissible pathogens of public health concern; such as avian and swine influenza viruses, Ebola, and yellow fever viruses.
Sepsis often presents as the clinical deterioration of common and preventable infections such as those of the respiratory, gastrointestinal and urinary tract, or of wounds and skin. Sepsis is frequently under-diagnosed at an early stage – when it still is potentially reversible.
SEPSIS – SYMPTOMS
The following symptoms might indicate sepsis:
Slurred speech or confusion
Extreme shivering or muscle pain, fever
Passing no urine all day
Severe breathlessness
It feels like you're going to die
Skin mottled or discolored
If you have a confirmed or suspected infection and are experiencing any of these symptoms, please contact your local hospital or physician immediately.
SEPSIS – RISK GROUPS
Everybody can get sepsis, no matter how healthy or how good in shape you are, or where you live. Certain people are at an even higher risk. Those include:
Children under 1
Adults over 60
People with no spleen
People with chronic diseases, e.g. lung, liver, heart
People with weakened immune systems, e.g. AIDS, Diabetes
PREVENT SEPSIS
Sepsis is the number one cause of preventable death worldwide. The best way to prevent sepsis is to prevent infection in the first place, which can be done by:
Vaccination
Clean water
Hand hygiene
Prevent hospital-acquired infections (HAIs)
Safe childbirth
Awareness
POST-SEPSIS SYMPTOMS (PSS)
Sepsis does not end at hospital discharge. Many sepsis survivors suffer from the consequences of sepsis for the rest of their lives. These can include:
Sadness
Difficulty swallowing
Muscle weakness
Clouded thinking
Difficulty sleeping
Poor Memory
Difficulty Concentrating
Fatigue
Anxiety