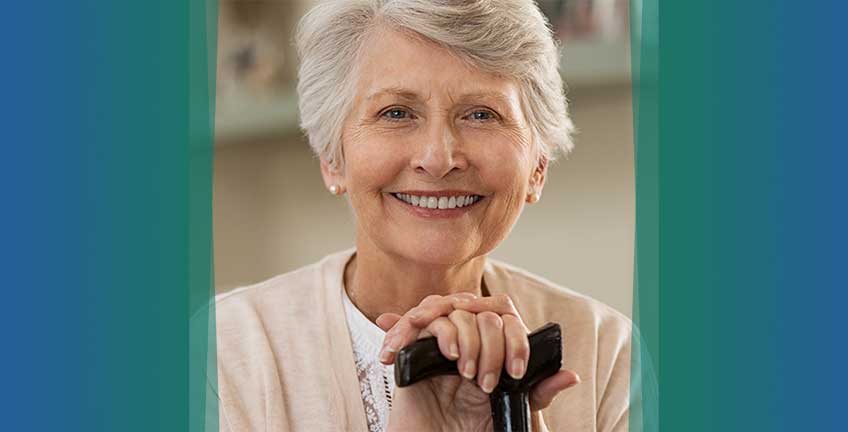 Choosing the best walking stick for your needs
Walking sticks support people who have difficulty walking due to balance problems, weakness, pain or injury.
Walking sticks can be an excellent aid for stability and balance. Often, they're helpful for people recovering from surgery or injuries. They can also support weakened hips, knees and ankles by transferring pressure into the stick via your arms.
There are many different types of walking sticks on the market. Everyone's needs are different, so it's essential to buy the right walking stick that meets your requirements.
How to choose a walking stick
The best walking stick for your needs depends on your abilities and personal requirements.
Seek professional advice. While it may be tempting to buy one off the shelf, it's a good idea to seek professional guidance to ensure the device is suitable and safe for you to use. An experienced team member at Friendly Society Pharmacy or a Physiotherapist or Occupational Therapist can advise the best walking stick for you and train you to use it safely.
Material. Consider the best material for your needs. While wooden walking sticks are still popular, the safest and most popular brands now tend to be made from aluminium or composite.
Sizing. Some brands are available in multiple sizes, such as small and large.
Height. Check the walking stick is long enough for you. Many options available are height adjustable. Aim for a height that allows the elbow to be bent at 15-30 degrees while standing straight. You should feel comfortable and safe. Watch for any signs of stopping, which means the stick may need to be adjusted.
Grip. Do you need a left-handed or right-handed walking stick? We recommend a palm grip or foam grip walking stick for people with arthritis, carpal tunnel, or difficulty gripping. Many T Handle walking sticks have a moulded hardwood handle which helps spread the weight evenly across the palm but can be hard on the hands.
Safety. Purchase from a reputable provider such as Friendlies Pharmacy that sells quality and reliable mobility supports. Ensure that the tip is not large enough to cause a trip hazard.
Buying a walking stick is a little like buying shoes – the best way to get the right size is to have someone measure you and try the item in the store before purchase. If you're unsure how to choose a walking stick, see the Friendlies team for advice.
Also, keep in mind that there are many different mobility aids. If you have weakness, pain or injury to the hips, knees or legs, a rollator or four-wheeled walker from Friendly Society Pharmacy may be a better option.
Different types of walking sticks
There are various shapes, sizes and styles of walking sticks or canes, each with unique features and benefits.
First, consider whether a single base cane with a rubber tip will be adequate for your needs or whether a multi-point walking stick with three or four bases will be a better option. See the experienced team at Friendlies Pharmacy or your Physiotherapist/Occupational Therapist for advice.
T Handle
For people who need a little extra support when walking.
Basic, traditional walking stick shape, may be adjustable.
Single leg with anti-slip rubber ferrule (tip).
Can be hard on the hands.
Crook handle
Feature a curved handle usually covered in foam for comfort.
Supplied with an anti-slip rubber tip (ferrule) for safety.
Ergonomic handle
Traditional shape but with a more comfortable ergonomic handle.
Cushioned handle reduces pressure on your hand.
Walking sticks with seats
A portable and lightweight option that allows the user to rest anywhere.
Easily converts to a small chair.
Check the safe working load and the process for switching from stick to seat before purchase.
Quad/mini quad base
Has a low base with four feet for extra stability.
Bases can be different widths or offset.
Adjustable height.
Ideal for people who need more support than a T Handle can offer.
Pyramid base walking stick
Four feet with legs forming a pyramid shape from the stick to the ground.
Offers extra stability.
Adjustable height.
Can be tricky to manoeuvre.
Adjustable walking sticks
If you're purchasing a walking stick for the first time, it's best to try an adjustable walking stick so you can set it at a height that suits you. Most walking sticks available today are adjustable. However, it's a good idea to check that you can adjust the walking stick yourself if needed.
Friendly Society Pharmacy walking sticks
Friendly Society Pharmacy stocks a wide range of walking sticks including:
Airgo Comfort Plus (Symbion Healthcare Logistics)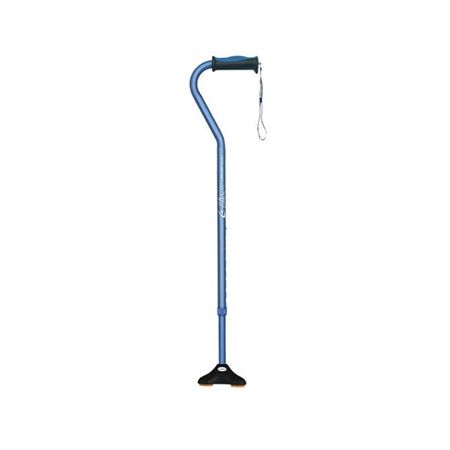 Airgo Mini quad (Symbion Healthcare Logistics)
Walking stick alum fold/seat (Aidacare)
Bariatric Walking Sticks (SWL 225kg) (Aidacare)
Folding Walking Sticks (floral/print designs) – Performance Health
Quad Cane Bariatric (SWL 270KG) (Aidacare)
Right/Left Handed Palm Grip Walking Sticks (Aidacare)
Right Handed Walking stick (Aidacare)
Quad Stick with offset base (Carequip)

Crook Walking Stick (Better Living)