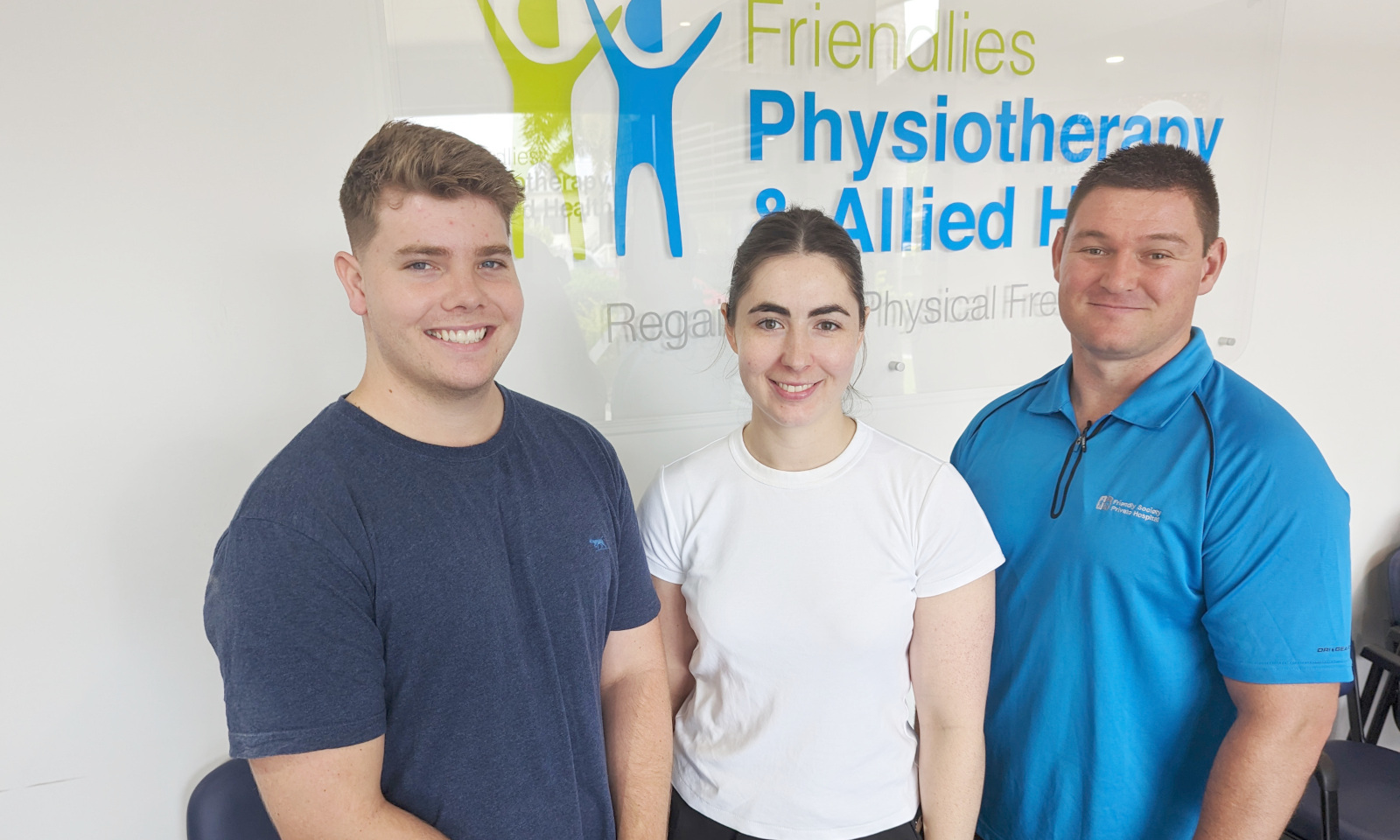 New physios welcomed at The Friendlies
The Friendlies have welcomed three new physiotherapists who joined the Allied Health team this week as recent graduates.
Ronnie Erasmus (pictured right) is from the Bundaberg Region and completed his studies at CQU, while Liam Bolton and Ashleigh Raulinaitis came from Brisbane after studying at ACU and Griffith respectively.
Allied Health team leader Sara Atkinson welcomed the trio and said it was fantastic to have three new enthusiastic staff on board.
"There's a nationwide shortage of allied health professionals, and in a competitive recruitment environment it's terrific these talented people have chosen to work in Bundaberg at The Friendlies," Sara said.
"They'll make valuable additions to our team and help to ensure we're able to keep meeting the needs of our patients."
Ronnie said he had previously worked in sport science and wanted to expand his skills after coaching taekwondo and rugby league in South Africa.
Liam said the coastal lifestyle and The Friendlies culture attracted him to Bundaberg.
"I like having a beach 15 minutes down the road, which is a lot different to Brisbane," he said.
"The staff here are really nice, friendly and approachable.
"They answered all my questions very well and made me feel welcome and comfortable."
Liam formerly worked as an allied health assistant at a private practice.
Ashleigh has work experience from regional areas and enjoys the stronger sense of community.
"I also like the coastal feel and vibe, which is what attracted me to Bundaberg, and I like that it's still driving distance to Brisbane when I want to go back and see family."
All three said the diversity of work in a hospital environment was also appealing.
The Friendlies' experienced and qualified physiotherapists are available to help people recover from injury, reduce pain and stiffness and increase mobility.
They're at 102 Woondooma Street, Bundaberg, phone 07 4331 1888.