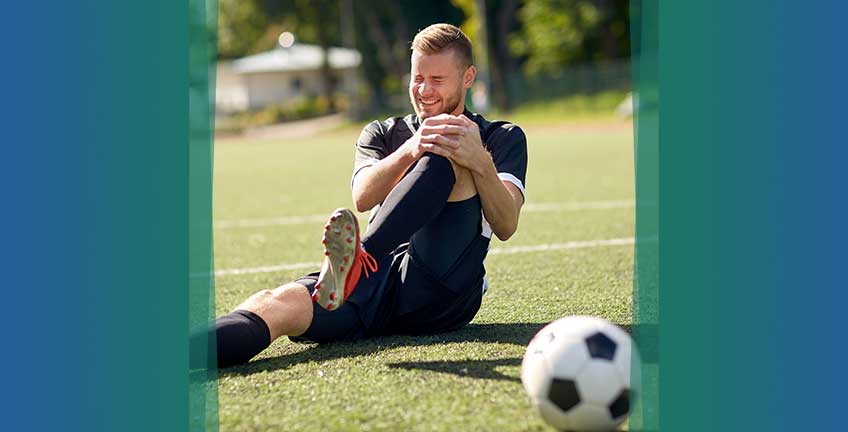 Sports injury physiotherapy for peak game fitness
with Physiotherapist Sara Atkinson from Friendlies Physiotherapy & Allied Health
Maintaining peak physical fitness and effectively managing injuries is crucial for any sportsperson, whether you're playing at a local, regional or professional level. One of the most valuable people to have on your team as an athlete is a sports physiotherapist.
A sports physio can help you manage pain and injuries, regain peak game fitness and offer tools to prevent a recurrence.
What is sports physiotherapy?
Sports physiotherapy is a branch of physiotherapy dealing with injuries and issues related to sportspeople. A sportsperson can be anyone who participates in an individual or group sport at any level.
A sports injury physiotherapist is a physiotherapist with additional qualifications or practical experience working in sport.
People who play sport need to return to a higher level of performance after injury, placing a greater demand on the body and a different expectation of recovery. A sports physiotherapist can help reduce pain, regain mobility and recover faster.
Types of sports injuries
The injuries seen by sports physios depend on seasonal sports played in their area. Studies show that sprains and strains are the most common sports injuries in children, while adults are more likely to injure the lower body.1
Here in Bundaberg and Wide Bay, the sports injuries we are most likely to see a related to team sports, including rugby league, soccer, hockey, touch footy, netball and cricket.
Some of the common sports injuries we see are:
Sprains: where the ligaments are overstretched or torn, such as ankle sprains
Strains: where the muscles or tendons are overstretched or torn, such as groin strain2
Knee injuries: including sprains or tears, fractures and dislocations
Shoulder injuries such as rotator cuff injuries, overuse strains and tendon tears
Joint injuries such as dislocations, fractures, sprains and strains
Impact injuries from high contact sports such as falls and tackles
Post-match soreness that is worse than usual
Classes of sporting injuries
There are three classes of injuries: acute, chronic and overuse. For peak game fitness, all three types need attention and treatment.
1. Acute injuries
According to Physiopedia, "acute injuries occur due to sudden trauma to the tissue, with the symptoms of acute injuries presenting themselves almost immediately".
Acute injuries are generally caused through direct or indirect force. This could be through a fall, changing direction while running or making contact with another player. Examples include a sprained ankle, torn anterior cruciate ligament or a broken wrist.
2. Chronic injuries
Chronic injuries develop more slowly over time and are characterised by ongoing inflammation and reduced mobility. They can be more challenging to diagnose and treat and often cause issues with surrounding muscles and ligaments.
Chronic injuries may or may not start as acute injuries. An acute injury can develop into a chronic injury if not treated fast enough or correctly. Symptoms of chronic injury can also be brought on by surgery or improper rehabilitation after acute injury.
Examples include tennis or golfer's elbow or shin splints.
3. Overuse injuries
Overuse injuries are muscle or joint injuries caused by repetitive trauma3. Common causes are overtraining (pushing yourself too hard too quickly) and poor technique. Overuse injuries become more common as you age.
Examples include stress fractures, runner's knee, plantar fasciitis and shoulder impingement. It's important to mix up intensive training with low impact activities. Managing overuse injuries sometimes require a break from the sport or activity causing the issue.
Sports injury assessment and diagnosis
Like any physiotherapy treatment, at Friendlies Physiotherapy & Allied Health, we develop a sports injury diagnosis following a thorough assessment.
We will generally ask questions about your medical and injury history, how the current injury occurred, pain levels and any treatment applied to date. We'll also run you through a series of tests to aid diagnosis. We can refer you for imaging in certain circumstances if required.
Generally, once you have a diagnosis, we can develop a treatment plan and provide an estimated recovery timeframe to get you back to sport.
Don't let injury hold you back! Get started on the way to treatment and recovery fast with Bundaberg sports physio Monday morning Sports Injury Clinic. Open to adults and children from 8.30-9.30am every Monday for 15-minute treatments. No appointment is necessary.
Physiotherapy for sports injuries – techniques
The techniques used in treating sporting injuries are similar to that used in any other physiotherapy. However, sports physios have a solid understanding of the dynamics of various sports and the level of fitness required to get back into playing.
Treatment is generally sports-specific. For example, we wouldn't usually give a netballer the same exercises as a cyclist. We develop a custom program based on your history, the sport you play and the nature of the injury.
It also depends on the cause of the injury. The same type of injury can occur in many ways and therefore require different treatment. For example, a sprained ankle can be caused by a direct impact from a footy tackle or incorrect twisting during a netball game.
Techniques we have in our arsenal for treating sports injuries include:
Hot and cold treatments to reduce inflammation
Manipulation and soft tissue work/massage
Immobilisation, taping or bracing
Stretching and mobilisation
Rehabilitation programs and exercise
Supporting graduated return to training and play
How long will treatment take?
Being patient can be the most challenging part! Many injuries just need time to heal. The timetable for recovery depends on the initial diagnoses and how your body responds to the treatment plan.
An acute ankle sprain could take a couple of visits over several weeks, while a severe knee injury may require 6-9 months of rehabilitation. Your sports physio will guide the way and often give you home exercises to do.
When to see a sports physio – why fast treatment is essential
So often, people present to our clinic in pain after a week of hoping things will get better. However, the longer you wait for treatment, the longer it can take for some injuries to heal.
Early assessment and treatment allow us to implement appropriate management strategies for the quickest return to sport and reduced pain and symptoms.
Injuries that aren't property rehabilitated are more likely to become recurring or chronic.
Sports injury red flags
Not sure whether to visit Friendlies Physiotherapy & Allied Health after your weekend game or mid-week training session? If you're experiencing any of the following, it's a good idea to see a sports physio pronto!
Specific tenderness, such as when one point of a bone, muscle or joint is more sore than the rest, or the other side.
Swelling that doesn't resolve overnight or with immediate icing and associated bruising.
Reduced range of motion.
Weakness, such as one leg not working as well as the other or not being able to lift the same weight with both arms.
For lower limb injuries, difficulty walking or weight-bearing.
Pain, especially acute pain at the time of injury, ongoing sharp pain or pain that doesn't resolve overnight.
An injury that worsens after stopping the game and cooling down.
Injury prevention strategies
Warm-up and stretch before you train or play.
Get treatment for repetitive minor to address underlying weakness and instability.
Improve overall fitness, strength and endurance.
Mix up your routine to avoid overuse injuries
Tape or strap vulnerable joints.4
Always properly rehabilitate injuries to help prevent re-injury.
Use the right protective gear, equipment and shoes for your sport.
Get enough sleep and rest when you're tired.
Spend 5-10 minutes cooling down after exercise. A gentle run or brisk walk and some stretches can help relax and lengthen the muscles.5
Don't let injury hold you back – Monday morning sports injuries clinic
Get early treatment for weekend sporting injuries with Friendlies Physiotherapy & Allied Health's Monday morning Sports Injury Clinic.
We'll assess the injury, lean towards a diagnosis and apply any taping or bracing needed. Plus, get a treatment/recovery plan that includes a timeline for return to sport.
When:             Mondays 8:00 – 9:30 (15 minute appointments)
Where:            Friendlies Physiotherapy, 102 Woondooma Street.
Cost:               $45, which is claimable on private health extras cover. Alternatively, there may be a small out of pocket expense.
Bookings:      Not required
More info:      https://thefriendlies.org.au/sportsinjuryclinic/
References:
1 David Heitz, Healthline, Everything you need to know about sports injuries and rehab, 9 November 2018.
2 David Heitz, Healthline, Everything you need to know about sports injuries and rehab, 9 November 2018.
3 Mayo Clinic, Overuse injury: how to prevent training injuries, 10 March 2021.
4 Better Health Channel, Department of Health Victoria, Sports Injuries, accessed 24 March 2022.
5 Harvard Health Publishing, Harvard Medical School, Exercise 101: Don't skip the warm-up or cool-down, 20 July 2020.